If you're a flight fanatic and looking to choose the next best flight simulator game to obsess over, you're in the right place. Over the years, aviation and flight enthusiasts have increased, and so has their appetite for better simulation titles. 
The best flight simulators on the market easily replicate the joy of taking to the skies on your favorite aircraft. Whether it's a pleasant flight along a scenic route or the thrill of a dogfight, studios have it all. With incredibly accurate graphics and real-life equipment details, gaming studios have created a vast, immersive world for aviation enthusiasts to fly around in. 
Below, we've compiled a list of the best flight simulator games (in no particular order or ranking) that will provide an array of titles suited to every player's taste. From true-to-life training simulations to combat situations in the skies, our list has something for everyone.
Best Flight Simulator Games
Scroll down to browse our list for your next flight fix and pick out something that suits your needs as a great simulator. 
[1/10] 
Microsoft Flight Simulator (2020)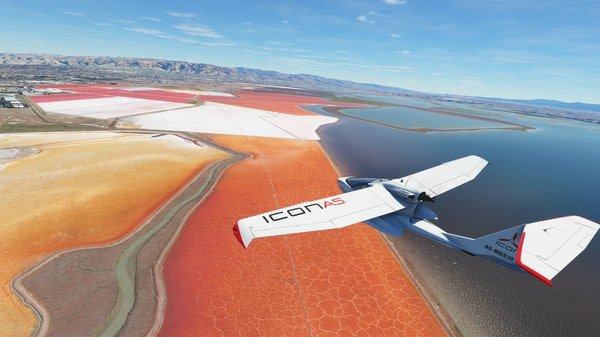 Platform: PC (Windows), Xbox Series X/S 
Release: 2020  
Essentially impossible to start the list for the best flight simulator games without mentioning Microsoft's longest-running and most extensive simulator program. The latest iteration of Microsoft Flight Simulator (MSF), released in 2020, provides a broad program for casuals and enthusiasts alike. Revamped for modern play with great VR support and countless peripherals, MSF gives players exactly what they want. 
A highly immersive game with pristine graphics, live weather, and traffic updates, immaculate aerodynamic mechanics, and an entire world to traverse. Using Bing Maps and Microsoft's own Azure AI, the developers have utilized petabytes of data to recreate every airport, city, and landscape in the world for the players to enjoy. So, jump right into your favorite cockpit and take off from anywhere in the world and enjoy this breathtaking title that restarted the aerial craze for so many. 
[2/10] 
War Thunder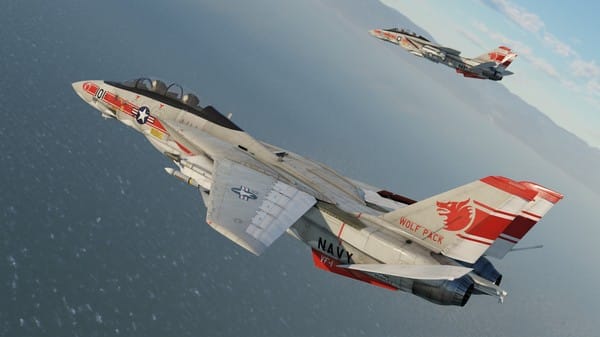 Platform: PC (Windows, Linux, Mac), PlayStation 4/5, Xbox One, Xbox Series X/S  
Release: 2013 
A heavyweight in the vehicular combat genre, War Thunder gives players the true essence of aerial combat. While the game features combat on land and sea as well, its true thrill comes from the combat in the air. And that is where the game truly shines. 
War Thunder's flight dynamics are truly a sight to behold, namely why the game is so popular. Coupled together with a huge selection of authentic aircraft and brilliantly accurate ballistics models. Players are forced to employ real dogfight tactics and maneuvers to succeed, considering the bullet mechanics for the game are spot on. Shooting down enemy planes feels as real and rewarding as real combat, fueling the actual thrill this game so heartily provides. Pick a plane, upgrade it to your liking, and set off for the bullet-ridden sky in this adrenaline-pumping experience. 
[3/10] 
X-Plane 11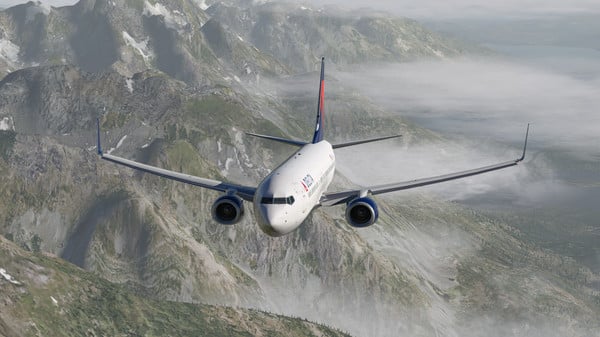 Platform: PC (Windows, Linux, Mac), Android, iOSWebOSOS 
Release: 2017 
X-Plane 11 is what you would consider a more accurate and modern take on the simulator genre. With more detailed models, real-life equipment, and better immersive features, the game is a top contender for MFS. It also has a comparatively cleaner UI than most simulation titles which enables beginners to easily get to take off in no time. 
The game features considerably more precise engine behavior and aerodynamic mechanics than most others of its type, enabling it to be used by actual professionals as a training aid. This provides a testament to the game's incredible eye for detail as one of the most accurate and lifelike representations of flying. Add to that a passionate community and a substantial modding database, and you have a great flight simulation game. 
[4/10] 
Ace Combat 7: Skies Unknown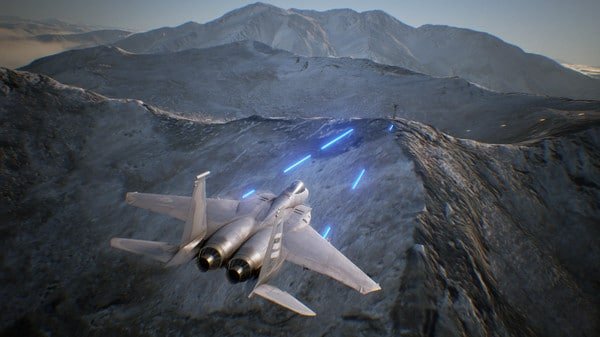 Platform: PC (Windows), PlayStation 4, Xbox One
Release: 2019  
While the starting additions to our list looked towards realism and accuracy in flying mechanics, Ace Combat 7 goes the opposite direction. The seventh iteration in the Bandai Namco series is a wild ride, in all essence of that phrase. Granted, the game still features authentic aircraft, comprehensive loadouts, and truly immersive firefights in the air. 
Ace Combat 7's campaign story may be tough to follow, especially if you're not a veteran of the series. But the game's incredible visuals and energetic dogfights will surely offer a memorable and challenging experience to players. Complete missions that seem to be taken right out of action movies and engage enemies in high-stakes combat all around the world.
[5/10] 
Star Wars: Squadrons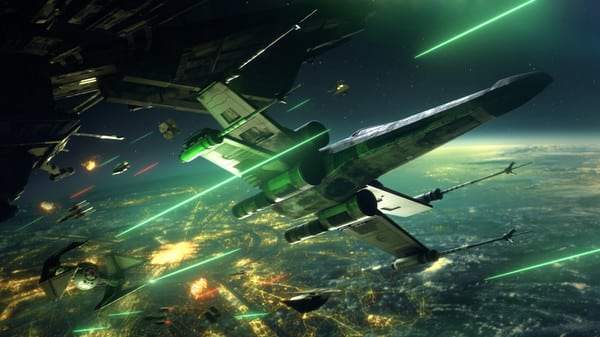 Platform: PC (Windows), PlayStation 4, Xbox One, Xbox Series X/S
Release: 2020
Star Wars fans rejoice, for this list includes one of the best games from the franchise in recent years. Squadrons is a highly intense space combat game with dogfighting in space and on the outskirts of planets at its core. Epic fights, authentic starfighter cockpits, and the pure rush of a space battle make this a worthy addition. Not to mention the VR mode for the entirety of the game makes it all the more appealing. 
The campaign for Star Wars: Squadrons may be relatively small in scale, but offers an impactful narrative for players who are fans of the franchise. However, it's the multiplayer action that will have you playing for weeks on end. Join your squadron in competing for 5v5 multiplayer dogfights as you challenge each other to be the best in the galaxy. Upgrade fighters, progress through the ranks of the Republic or the Empire, and lead your side to victory among the stars. 
[6/10] 
Elite Dangerous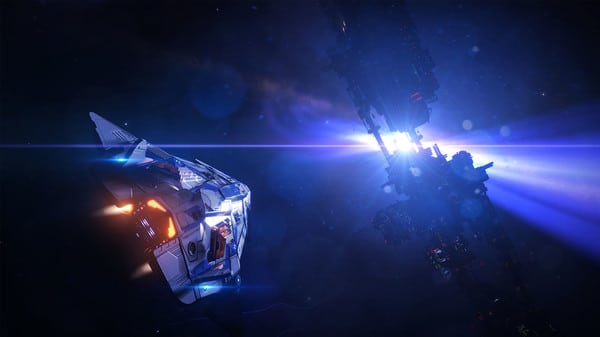 Platform: PC (Windows), PlayStation 4, Xbox One  
Release: 2014 (PC), 2015 (Xbox), 2017 (PS4) 
Elite Dangerous did in 2014 what games started to achieve in 2020. While flight simulators just now started scaling their worlds to life-size proportions, this game already had a 1:1 replica of our galaxy for gamers to get lost in more than 7 years ago. This, along with an evolving narrative and a connected gaming experience, makes this game must-try. 
Players start with a simple starship and a handful of currency to try and survive in the galaxy dominated by galactic superpowers and ever-present war. You can even upgrade and customize your ship while you explore, fight, trade, smuggle, and survive in the harsh Milky Way of the 34th Century. Where each player's story intersects with the outcome of the entire game and eventually shapes the course of the galaxy's future. Players can either choose to go on this adventure solo or in open play where they can meet a trusted ally or a deadly enemy around every corner. 
[7/10] 
Kerbal Space Program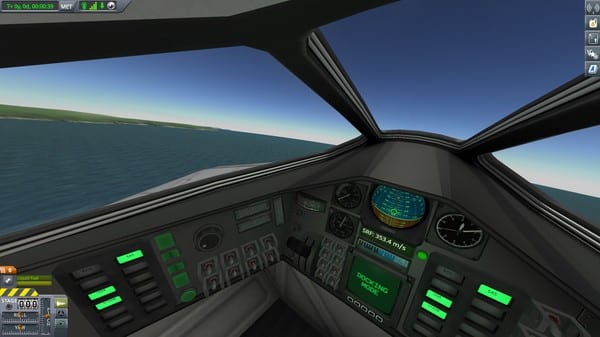 Platform: PC (Windows, Linux, Mac), PlayStation 4/5, Xbox One, Xbox Series X/S
Release: 2015 
This title may seem a little odd to be on this list at a first glance. But looking past the cartoon-like design and the fun indie gameplay, Kerbal Space Program is an extensive space rocket simulation in its own right. Players are tasked with constructing a spacecraft that functions according to realistic aerodynamics and proper orbital physics and setting off into space. Meaning that you not only pilot the craft but also build it yourself which gives a sense of accomplishment on its own. 
Kerbal Space Program relies heavily on the science of it all and factors in the acute simulation of gravity, drag, ballistics, acceleration, and much more when dealing with the success of missions. And launching successfully means expanding your base of operations and the in-game race's reach. Everything from construction and strategy to funding and upgrades affects the outcome of your mission and must be dealt with strategically. Taking the alien race's future into your hands and coming up with ways to explore the star system provides hours of endless fun, especially for gamers with a liking for space shenanigans.
[8/10] 
Project Wingman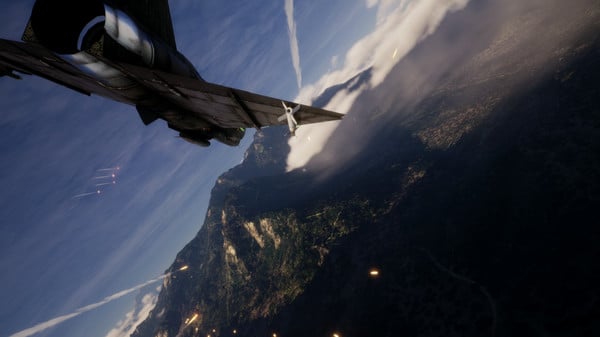 Platform: PC (Windows), Xbox One  
Release: 2020/2021
For all the hardcore mavericks out there, this is the game for you. While Project Wingman has refined gameplay and undoubtedly immersive visuals (especially in VR mode), the game shies away from actual simulation and provides more of an action feel to it. It features an engaging single-player experience with easy controls and challenging missions, perfect for players looking for a high-paced combat setting.
Set on an alternate Earth, players must fly and fight through harsh and challenging environments all over the planet. Combining beautiful volumetric clouds, exotic locations, and a large variety of aircraft and weapons, Project Wingman delivers a great combat setting. And with great peripheral and VR support, players can genuinely feel the excitement of experiencing aerial warfare from within the cockpit of their chosen plane.
[9/10] 
Digital Combat Simulator (DCS) World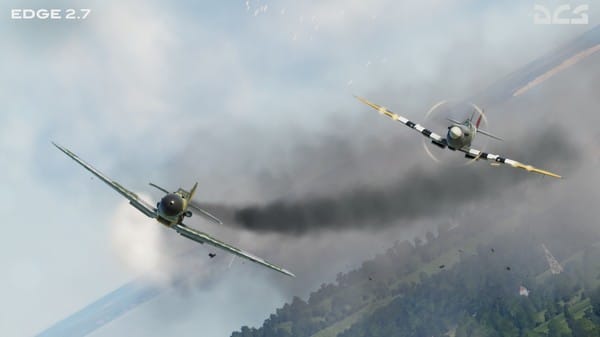 Platform: PC (Windows) 
Release: 2008 
Digital Combat Simulator (DCS) World is a digitally simulated battlefield. Offering one of, if not the most authentical combat simulation anyone can provide. Some would say it's the closest anyone can get ty getting into a military jet and seeing it in action. Providing a range of the world's most popular fighting planes of all authenticity, this game is truly a spectacle.
DCS World has an extensive array of missions that have been carefully reconstructed to provide real-life combat situations, that require proper strategy and wit to overcome. From great historical battles to current combat scenarios, this game has campaigns spanning various eras of combat. The game's goal is to utilize the hyper-realistic simulation to go from a novice enthusiast to an experienced fighter pilot. Additionally, the game is so unbelievably real that even taking off is an incredible feat.
[10/10] 
IL-2 Sturmovik: Battle of Stalingrad
Platform: PC (Windows) 
Release: 2013
For fans of WWII-era titles, this game immediately takes the cake. IL-2 Sturmovik: Battle of Stalingrad is a cornerstone of historic battle representation and features the actual battle modeled to be the largest and most detailed recreation ever made. The entire combat takes place on a whopping 358 x 230 km map, simulated with unique structures, landscapes, and structures. 
Like all other titles in the series, this iteration is fairly easy to pick up for beginners and casual players alike. Also, it entices players with realistic graphics and incredible ballistics modeling. From fine detailing to adequately tough AI enemies, this game puts you into the actual shoes of a fighter pilot in WW2 and does it incredibly well. 
---
And there you have it, our picks for the best flight simulator games that you can dive right into. Offering a variety of different and exciting core gameplay mechanics, hopefully, there's something for everyone to enjoy. Be sure to let us know if we missed an important entry and, in the meantime, check out our guides for the best games in other popular genres.
The post 10 Best Flight Simulator Games (2022) appeared first on WhatIfGaming.