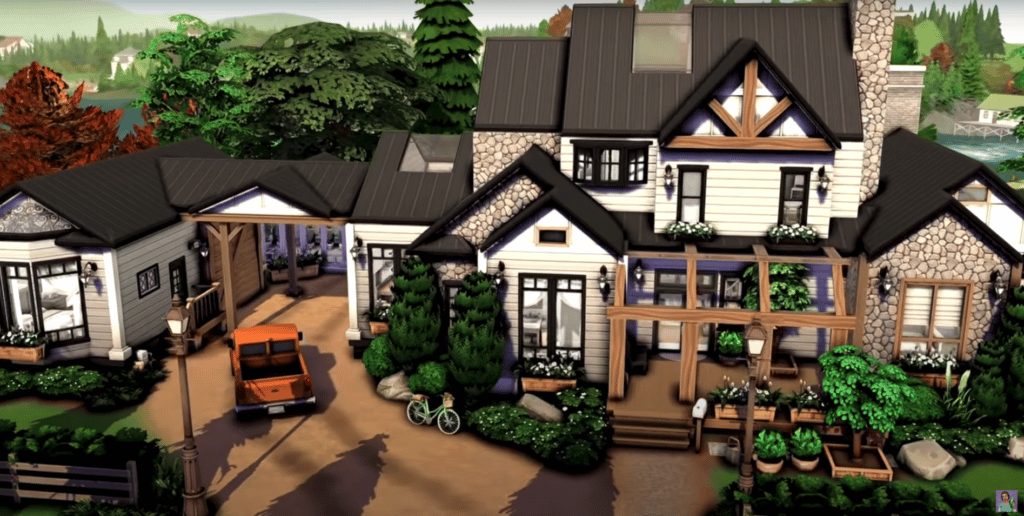 If you've ever played the Sims 4 before, you know how bland the pre-built lots can be. Often, it leads you to need to build your own dream home. For some, coming up with the best Sims 4 house ideas is as easy as riding a bike; for others, it's a nightmare.
Luckily, tons of expert designers and builders out there almost deserve architectural awards. Their creative minds have created Sims 4 homes that you can take inspiration from or download into your own world (if you have the right expansion packs).
With this list, you can change your Sims home from a painted box house to a modern, luxurious mansion. And if extravagance isn't up your alley, you can try some other cozy builds to make the best Sims house ever!
[1/20]
Modern Farmhouse
Creator: Sims 4 Creations
Following a real-life architectural trend, our first Sims 4 house idea is a modern farmhouse. This is one of the best houses we've seen from a fantastic creator called Sims 4 Creations. The home combines stone with timber and combines the package with stunning landscaping. It's always amazing to see how a little bit of greenery goes a long way toward making realistic builds.
This farmhouse is made from only base game items, meaning you won't need to spend the extra buck to buy expansion, game, and stuff packs. In addition, the house boasts beautiful wooden paneling (made by using mods to turn and scale items) and debug items such as the truck.
The stunning kitchen blends modern design with country living, while the bathroom would make any Sim feel relaxed. What's great about the best Sims 4 houses is that you don't have to copy the exterior design. Instead, you can simply draw inspiration from the breathtaking interior design.
[2/20]
Eco Tiny House
Creator: InSims
This eco home is one of the best Sims 4 house ideas as it seamlessly blends Sims 4 Eco Lifestyle with the Tiny Living game pack. It features rain collection devices, a beautiful rustic garden, a wind turbine, and, most importantly, a tiny home that fits into the landscape. The great thing about the build is that it's not just beautiful to look at; it's also practical.
The home cuts down on your Sims electrical bills due to its off-grid design. Additionally, try combining this build with the Simple Living lot trait (Sims 4 Cottage Living), which will force your Sims to live off the land.
As for the house, it uses light colors throughout, bringing natural light into the home and making the spaces seem bigger than they actually are. Well, for your Sim, that is. In addition, the home features a pool, terrain details, rocks, and other landscaping elements that blow our minds. Finally, the lot includes a bug house and a clearing for outdoor activities such as stargazing and picnics.
[3/20]
Mountain Cabin
Creator: Kate Emerald
Looking for the perfect escape to the wilderness? This mountain cabin fits neatly into the rocky landscape, perfect for summer and winter weather. We recommend building this modern cabin in Granite Falls if you have Outdoor Retreat. The beautiful redwood complements the black roofs as well as the stony outcrops. With a frozen waterfall, Kate Emerald went all out with this mountain build.
The three-story cabin includes a bar and entertainment room, four bedrooms, large living spaces, and luxurious bathrooms. The cabin is perfect for a large family of Sims or just a friend group trying to escape from the monotony of life.
Surrounded by coniferous trees and nature, this house is perfect for outdoor Sims and those who love the cozy indoors. Floor-to-ceiling windows line the walls, framing the great outdoors while still letting in natural light. This build has tons of inspiration and aspects to include in your own Sims 4 world.
[4/20]
Tiny Apartment Building
Creator: MsGryphi
This is one of the best Sims 4 apartment builds ideas out there. The 4-unit apartment building draws inspiration from Japanese architecture and fits perfectly in the Mt Komorebi setting from Sims 4 Snowy Escape. Each unit has its unique style, ranging from a clean, white apartment to a slightly eclectic one. With fully fitted kitchens and bedrooms tucked in, these tiny apartments are for any small Sims family.
While we know this isn't exactly a house, building an apartment block is fun when you have the Sims 4 Discover University installed. With the expansion pack, you can get roommates to move in. Then, simply assign them a bed and watch the apartment-living life unfold.
[5/20]
Jungle Underwater House
Creator: Sims 4 Creations
This is undoubtedly one of the best and most inspiring Sims 4 houses we've seen. It shows how far creatives can go in the game with some help from mods. This underwater jungle home uses items primarily from the Island Paradise expansion pack to create a unique and unforgettable home.
Walk into your glass-walled home and experience the tropical waters from a dry, luxurious standpoint. The house is well-lit, neatly overgrown with tropical plants, and has a deck for sunbathing. The home even has an underwater courtyard that opens up to the sky, bringing the dry outdoors to your underwater home.
Woven chairs and wooden tables scatter the floor plan, with a modern and sleek kitchen placed at the heart of the house. Even the bathroom catches your attention with striking white walls and greenery.
If you genuinely want to experience tropical island living, taking a few pages out of the Sims 4 Creations book is a great idea.
[6/20]
River Cabin
Creator: Kate Emerald
Keeping in the same style of the mountain cabin above, Kate Emerald has created yet another stunning house that's got to be one of the best Sims 4 houses on the market (well, your Sims real estate market, anyway). With cone-shaped roofs and stilts holding up platforms, the cabin fits perfectly into the rocky landscape. Wrap-around porches take advantage of the stunning views and create outdoor spaces despite the lack of ground to play on.
As for the interior, it takes on a classic cabin theme with wooden furniture, cabinets, and features. From the cozy, almost old-fashioned kitchen to the generous dining room, there's enough space for at least 14 Sims during any diner party you might throw.
This home captures the essence of a cabin but upscales the concept to become a mansion in the woods. Your Sims can enjoy roasting marshmallows on a campfire or eating breakfast in the fresh mountain air. The sound of the flowing river is sure to help them unwind and relax.
[7/20]
Italian Villa Family Home
Creator: Aveline
Switching from mountains to an Italian country estate, this home turns the shell of an Italian house into a modern and luxurious home. While the outside may be mostly stone, timber clads the interior walls, making a cozy, welcoming space inside. Contemporary furniture is scattered throughout the building, creating spaces that every Sim would enjoy.
Fitted with an open kitchen, home office, balcony, two bedrooms, and a yoga room, this is the perfect home for a family of three. The ground floor leads up to a wrap-around interior balcony, creating a lounge with a double-volume ceiling space.
And that's just the interior. The outdoor area boasts a gorgeous swimming pool for the sweltering Italian heat. Surrounded by a beautiful garden, there's no doubt that this Italian villa is one of the best Sims 4 homes.
[8/20]
Large Tudor Family Home
Creator: Jessicapie
Switching from Italy to England, the next house is a large Tudor home for a family of 5 Sims. Starting with the entrance to the home, you'll find a neat yet lush garden covering the front of the house. A sandy gravel driveway makes the perfect place to park your car, with a faux garage with barn-like doors. Then, taking a few steps, your Sim will land on the front porch alongside an extruding bay window.
The home has multiple studies, living areas, and dens, supplying the family with plenty of communal spaces. The country-Esque kitchen includes an island with a nook for the family to eat breakfast or keep the cook company. In addition, the house is littered with bookshelves, plants, and antique decor that every family home should include. Not to mention the breathtaking bathroom with hanging plants and a bay window for plenty of light.
If your Sim enjoys a blend of style and cozy living, this home is for them. The cottage-like garden complements the timber home. Our favorite part is the tower that runs through both stories, creating a study and art room for the family.
[9/20]
Japanese Townhouse
Creator: Jessicapie
The Sims 4 Snowy Escape introduces a new build style to the game – Japanese-themed homes and items. Including plants, rock gardens, roof awnings, and doors, Snowy Escape added a plethora of stunning items which have inspired builders like Jessicapie to create stunning homes.
This home includes stunning wooden windows and doors, complementing the small zen garden. The neutral furniture within the home complements the wooden features, which include wooden floors and steps within the home.
Whether you build this home in the scenic landscape of Mt Komorebi or in the simple town of Willow Creek, this Japanese townhouse is perfect for your Sims family.
[10/20]
Royal Mansion
Creator: Simproved
Have you completed all Sims challenges, earned a fortune, finished aspirations, and have generations of Sims? Then this luxury mansion is perfect for spoiling your accomplished Sims. With a tall entrance and driveway leading to a back courtyard, this house will make any Sim feel like royalty.
The plot includes three buildings in total, the entry building, the main house, and a pool house. Statues, plants, and fountains can be found throughout the gardens, while the mansion's walls are lined with classical windows. This royal mansion is perfect for wealthy Sims or Sims with celebrity status.
[11/20]
Christmas Cabin House
Creator: milgemilge
You can practically hear the sleigh bells when looking at this Sims 4 house for ideas. With the Sims 4 seasons, you can experience winter within your Sims game, even if you live in a warm climate. This one or two Sim cabin is small, cozy, and perfect for a wintery getaway. So sit down, read a book by the fire, or play outside in the snow; the choice is yours!
The dark wood color scheme is complemented by the layers of snow, and the entire cabin lights up with a touch of festive cheers. Whether sharing a holiday meal with a loved one, cooking in the tiny kitchenette, or playing outside with an animal friend, this tiny cabin is packed with activities.
[12/20]
Modern Apartments
Creator: Seenderella
Next on the list is another apartment building. However, the units are larger this time, and the entire building has a more contemporary look and feel. However, we can't deny that there are Japanese design elements within the house that truly makes the building shine. This home uses the Snowy Escape expansion pack, with build/buy items showing up throughout the apartments.
Despite the spaces being smaller than an ordinary house or apartment found in the Sims 4 city living, they're still packed with functionality and decor. House plants hand from curtain rails and ceilings while fully fitted kitchens can be found in each unit. In addition, balconies line the house's facade, creating outdoor spaces for each family unit.
Again, building an apartment block like this is fun, and inviting Sims to be your roommates will soon fill up the apartment units.
[13/20]
Tiny Loft
Creator: Sims 4 Creations
Keeping with the apartment life theme, the next home on our list of best Sims 4 houses is an apartment loft. With platforms and ladders added to the base game, this tiny loft is unique with modern, sleek designs. In addition, the apartment uses the Tiny Living stuff pack, custom content, and beautiful decor.
The open-plan apartment has a spacious kitchen and living room; however, the space under the bedroom isn't usable. While we understand that the game has limitations, it would have been nice to see a study tucked under the bedroom platform. That said, it does include a home office nook perfect for those Sim with work-from-home careers.
[14/20]
Container Home
Creator: Sims 4 Creations
Another build pulling from the Eco Lifestyle expansion pack is this stunning container house. Made from three intertwined containers, the home becomes spacious and inviting. A ton of industrial decor gracefully meets eco-living aspects, such as the solar panels mounted on the top container.
Awnings cover the windows, creating shade, while a stunning feature window protrudes from the top container. The home is surrounded by desert plants such as succulents, cacti, and a desert tree planted neatly in a tire.
However, inside the home is where the desert-industrial feel disappears and opens to a modern home with stunning color pallets. The open kitchen is perfect for cooking meals together as a family. In addition, the home has plenty of living space to stay cool during the sweltering desert heat waves.
[15/20]
Huge Family Mansion
Creator: Jessicapie
Let's be honest; if you haven't dreamed of living in a massive mansion, your Sim has. This vast family mansion has it all; from terraced gardens to a home gym, there's nothing that Jessicapie left out of this build. The magnificent gardens welcome all guests to the home and guide them through the front, past a luxury fountain, and into the grand foyer.
Some ideas to take inspiration from in this Sims 4 house include the faux garage, a garden cottage with an entertainment area, a garden patio, a home gym, a basketball court, and a conservatory with indoor plants and a piano. The home also boasts a vault, laundry room, and wine cellar.
This 6-person home is perfect for larger families with active children, computer nerds, and sims with a green thumb. However, the vault also suggests that the home will suit materialistic or celebrity Sims best.
[16/20]
Base Game Modern House
Creator: Mr. Olkan
The best Sims 4 houses are not often created from base game items. That's why we had to include this modern house on our list. Sure, it doesn't have as much clutter and decor as other builds, but its simplicity shines.
If you haven't forked out on any other Sims 4 game packs, expansions, or stuff packs, this house is for you. From stunning white walls to sleek patios, this home has it all. Not only does the simplistic design rule all decisions made inside the home, but outside as well, as it boasts a modern and clean swimming pool area.
Carved concrete columns meet clean walls and support the stunning timber staircase that climbs to the second floor. With modern kitchens, entertainment areas, and luxury bathrooms, your Sims will feel like celebrities without the Get Famous expansion.
[17/20]
Rustic Family Log Cabin
Creator: Jessicapie
Another home perfect for Granite Falls is this rustic log cabin. While most of the house consists of wood, stunning features draw your attention, such as the floor-to-ceiling window. These features turn this old cabin into a modern house for all types of Sim families.
The house includes an outdoor area with a campfire and guitar to sing songs underneath the stars. A covered patio makes space for outdoor dining, and pot plants bring parts of nature indoors. The home's interior can only be described as a log cabin that meets contemporary design, with hanging lights and furniture that seem to be the latest trends.
This four-bedroom home is perfect for larger and medium families, with an open-plan kitchen, study areas, and a beautiful back porch.
[18/20]
Crescent Home
Creator: Kate Emerald
Looking for a unique modern home that differs from the seemingly endless box houses? Then this contemporary home is perfect for your family of Sims. In the shape of a half circle, this breathtaking home blends outdoor spaces with interior courtyards that act as central points in the home.
With a swimming pool, sunbathing decks, and a roof garden, the sleek design of this modern home is perfect for Sims looking to live a high life. First, a vast open kitchen flows into a dining area with white, pristine color schemes. Next, the lounge is walled off with a rocky surface, creating an underground effect you won't forget.
With so many ideas to draw inspiration from, this is one of the best Sims 4 houses you can find.
[19/20]
Brindleton Family Farm
Creator: Jessicapie
Yet another build by Jessicapie, this is one of the best family farm Sims 4 houses we've seen in a while. The house is situated in Brindleton Bay, the world that comes with the Sims 4 pets. So naturally, the home includes a barn that's been retrofitted into a vet clinic. The home also boasts two sheds, chicken coops, bee hives, an excellent garden patch with sprinklers, and a scarecrow.
The clinic includes a waiting room for all pet owners who may visit the vet. In addition, there's a spacious courtyard with a well in the center, which we can only imagine filled with playful dogs.
As for the house, it's a three-bedroom home has two double beds and a children's bedroom, which can constantly be redecorated as your family ages. In addition, it includes a stunning country kitchen, patio, and study. As always, Jessicapie did an excellent landscaping job, creating outdoor spaces you'll want to spend time in.
[20/20]
Generations Family Cottage
Creator: Jessicapie
Are you playing the long game? Do you want your Sims to have generations of family to follow? In that case, you should consider making this family cottage your forever house. With overgrown masonry walls, the exterior facade is inviting and cozy. The home's interior is no different, with warm earthy tons drawing your attention in every room.
There are four bedrooms in total, one on the ground floor and three on the second – all joined by a pajama lounge. The back patio has planter boxes and a luxury outdoor lounger. The kitchen is perfect for family meals, big enough for more than one cook. A large circular dining table can be found just to the east of the kitchen, seating six. The foyer links the kitchen with the hall and lounge area and the first-floor bedroom.
While this home is last on our list, we can confidently say it's one of our favorites.
Final Thoughts
While you may be unable to replicate these homes, especially with all the extra packs and CC needed, you can definitely draw inspiration from them.
Plan your next home as a log cabin, a contemporary house, an Italian villa, or a Japanese apartment block. With the builds mentioned above, the inspiration is abundant, and the possibilities are endless.
Which is your favorite house, and which would you try to build? Let us know in the comments below.
The post 20 BEST Sims 4 House Ideas: Ultimate List (2022) appeared first on WhatIfGaming.