Armored Core 6's main currency, COAM, is actually pretty easy to earn as all missions can be replayed and will always have a set payout that will be deducted depending on how well you do. But if you're hoping to get some weapons and parts available for a particular mission and lacking a few COAM, here's a quick guide highlighting the most efficient mission that's found at the start of the game.
Armored Core 6 Guide – COAM farming in Chapter 1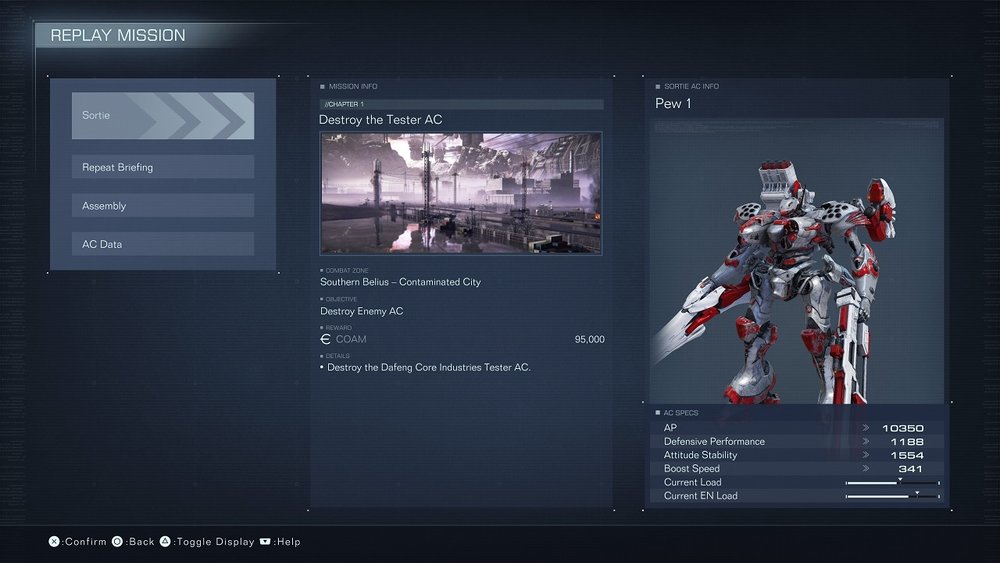 If you are planning to farm COAM with just Chapter 1 missions available, make sure you spend most of your time running through the 'Destroy the Tester AC' mission, which is the fifth mission in Chapter 1.
Without repair and ammo costs, the mission will reward you with 95,000 COAM, which is pretty good at the start of the game considering that the mission is simply you going against one student pilot in an AC. It's a 1v1 battle that when mastered, can be completed roughly around a minute.
It's a straightforward fight that even allows you to get in a few easy shots at the enemy if you boost fast enough toward it once the mission starts.
---
Related – How to get S Ranks in Armored Core 6
---
There are different builds to efficiently farm this mission but the general idea is to have rockets on both shoulders, an impactful main arm weapon (shotgun or bazooka), and a laser blade that can quickly capitalize the stagger state. The faster you stagger the enemy, the faster you'll get this mission done.
Any type of legs will do but I would suggest the reverse join legs with a booster that gives you the quickest boost as you'd like to avoid as much damage as possible so your pay won't be deducted too much after the mission. The DF-BA-06 XUAN-GE bazooka might just do the trick to help stagger the AC.
What's great with this mission it also serves as great 1v1 practice for beginners of the game. Newcomers will be able to get used to combatting AI ACs while farming some COAM in the process.
This is again for those still at the start of the game, or more importantly, struggling to deal with the game's first big boss waiting for you in Chapter 1. Later chapters provide more efficient and rewarding missions to earn COAM.
If you get sick of farming and are a bit short of COAM for a specific part, don't forget that you can sell a piece for the exact same price you bought it, so there's a lot of room to experiment and try different parts.
---