It's been over a decade since we were blessed with a new mainline title in the Armored Core series, and the original studio, FromSoftware, returns to its roots, delivering a fantastic mecha-based action game to remind us all why the studio is considered one of the best in the industry, while also highlighting to the uninitiated why series' fans have been anxiously awaiting this revival.
Armored Core was always at the back of people's minds ever since FromSoftware embarked upon the success tour of creating the Souls series, Bloodborne, Sekiro: Shadows Die Twice, and Elden Ring. The ambition of the Souls series was a major departure for the mecha studio that paid off big time, and in the wake of their success, many have forgotten what FromSoftware was first known for. Armored Core VI: Fires of Rubicon shows that they haven't lost their touch, as everything that made the series so beloved is intact. Between the storytelling, mission structure, AC customization, and mecha combat, all of it brought me back to my Armored Core 2 days, when I picked up the series for the first time.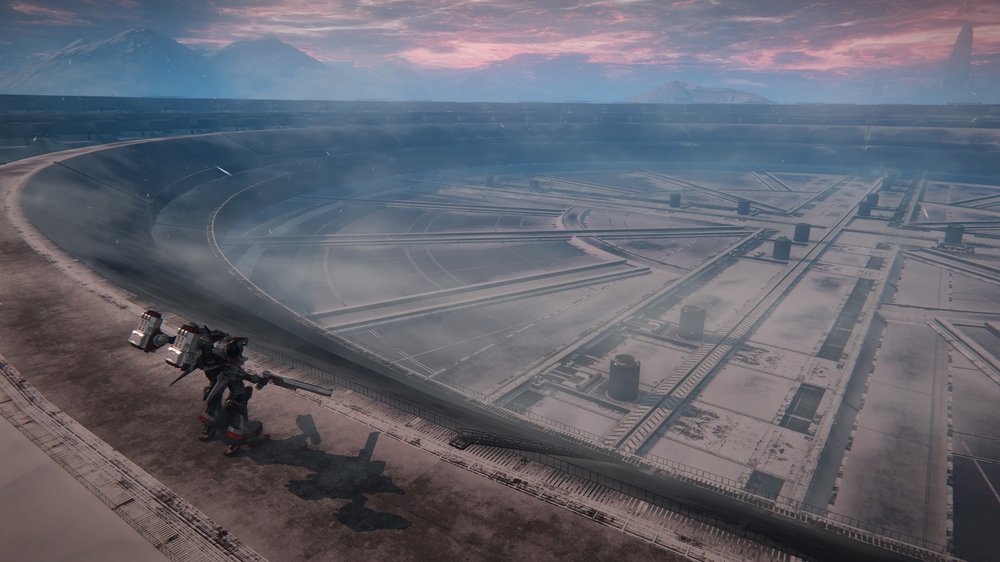 Let's get started, 621
You play as an augmented Armored Core pilot who illegally arrives on a planet called Rubicon 3, taking on the mercenary callsign Raven. You take on dangerous jobs for various corporations on the planet that are fighting for control of the planet's valuable energy resource, Coral, which many thought was lost during a cataclysmic event years ago. It has just recently been detected once again, and so the corporations and locals are at war over it.
The story unfolds through a series of audio-only conversations before, during, and after missions, with cutscenes mostly containing interactions between different ACs. There are no character faces or even human models, though they did a decent job of portraying the personalities of most key characters. The approach strongly reminded me of how the Ace Combat series' story was told, as all you really get is a voice attached to a callsign or mech you'll meet along the way. 
I wasn't too engrossed with the overall story, but it's easy to follow in comparison to any Dark Souls title, or even Elden Ring. It does the bare minimum to let players know where they are and what's at stake as you blast through each mission. Across the game's five chapters, players will eventually encounter decision points where they're forced to pick one mission over the other, steering how the story will go and resulting in one of three possible endings. This structure gives more incentive to revisit Armored Core VI through New Game Plus and beyond, simply to experience all missions, as each decision steers you to missions only available based on your choices.
My first run took roughly 25 hours to complete, with missions lasting from as fast as a minute to as long as fifteen minutes. Each mission takes you to different locales in Rubicon 3, and are often massive stages, from entire cities to underground complexes that serve as perfect spaces for mecha combat. Most of the time you are given all the space needed to boost and maneuver with ease, as narrow spaces are rare in missions, which I greatly appreciated as I barely found myself fighting against the environments and was just laser-focused on taking on whatever threat was before me. 
There is some verticality to many missions, as you go from one area to the next. Minor platforming is present as you take in visually stunning vistas that may make you question if this is really the same engine used to create FromSoftware's previous titles. Everything is massive, and your AC feels like a fly in comparison. From the boss encounters, to the structures, to the machinery in the far distance, the scale is enormous. While you'll feel powerful, the size of the world constantly reminds you that you're a small blip in the overall picture.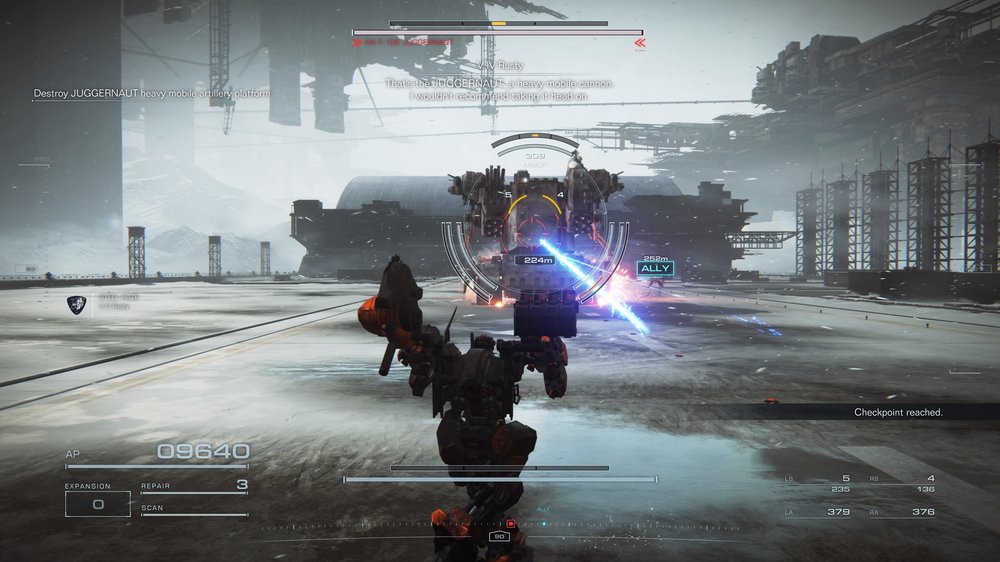 Zone of the Enders, meet Custom Robo
Combat in Armored Core VI is an Armored Core fan's dream. If you've played any of the previous titles, you're going to feel right at home. Movement feels snappy and easy to grasp, making you feel like a true threat to the opposition just by movement alone, transforming the player into the protagonist of their own mecha anime series. The game is fast-paced, as 90% of the time you'll be boosting around the area, and boosting even harder to dodge incoming fire. The energy recovery after pulling off a quick maneuver is fast, so it's rare to find yourself standing still or moving slowly, even if you favor heavier AC parts. There is a stagger meter, as well as impact/stun damage, and the game differentiates between kinetic, melee, electric, and explosive damage. The gameplay truly shines when you go against another mech, a mercenary with the same mobility and lethality as you, and there are a series of missions that really test the player, from two versus-one encounters to a boss that could take hours to overcome.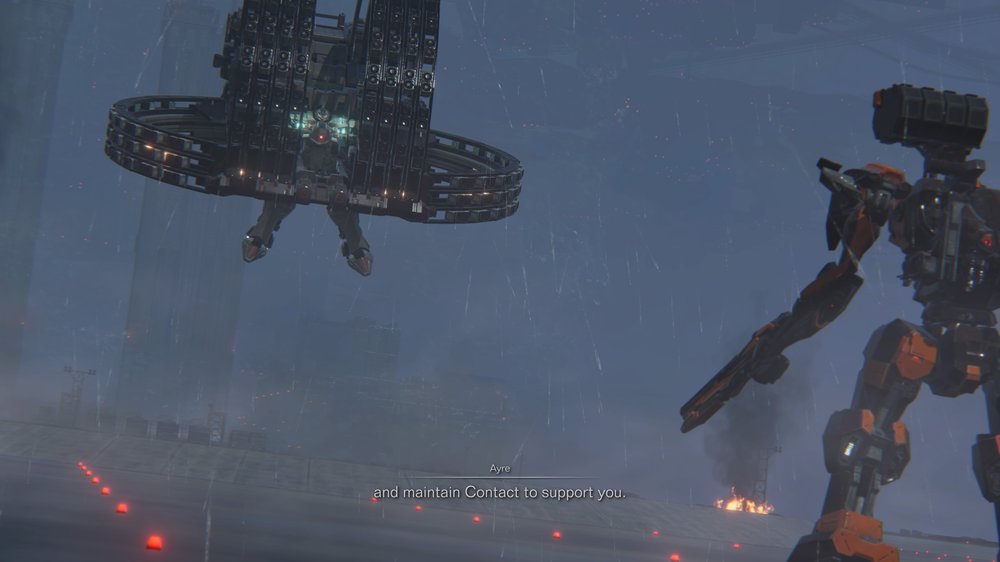 Bosses are the pinnacle of Armored Core VI gameplay and FromSoftware's way of flexing their core strength as a studio – delivering satisfying difficulty. The boss encounters are memorable as each one has unique attack patterns that showcase the studio's experience at creating the Souls-like experience. Some may find it a bit of a turn-off, as there is no comparable difficulty from previous Armored Core titles, but they're a great addition as they not only test the player's understanding and combat skills, but also encourage experimentation in AC building. 
Some loadouts make these boss encounters easier, and only mixing and matching what works for your playstyle eventually leads to taking down these bosses with ease. In theory, you can stick to one AC concept all throughout the campaign, but the boss fights challenge this, as I felt compelled to leave my comfort zone just to move forward. This doubt opened me up to different playstyles and trying different leg parts, and soon enough I was constantly shifting depending on the type of mission based on the brief.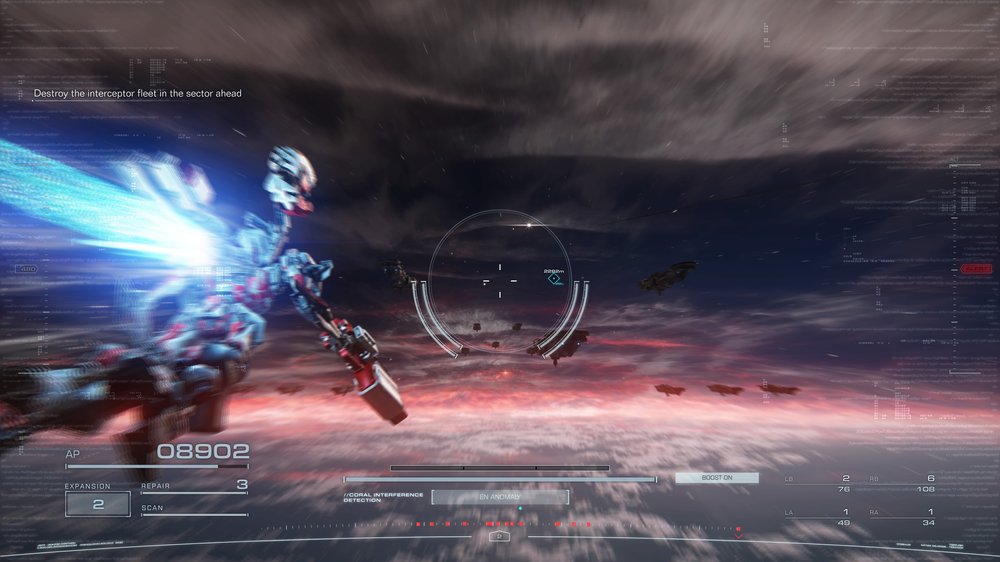 The Perfect Build Doesn't Exi—
Customization is just as crazy in Armored Core VI as in previous titles. Players have the freedom to change any part of their AC. Arms, legs, chest, boosters, shoulder weapons, arm weapons – you have full control of putting together your version of an unstoppable force. As you progress, parts become available for you to purchase, and the amount of options keeps growing as even after hours of playing the game I have yet to fully utilize every piece available to the player at the end of the game, and some are only available after New Game+.
There's a lot to consider, like weight, mobility, energy capacity, and weapons that determine how strong you might be at certain ranges and how mobile your machine would be. Do you want to be an AC that is less susceptible to being overloaded, or a machine that can zip through the battlefield with speed and deal damage up close? There are so many viable combinations, as I saw myself constantly swapping parts.
The freedom then goes off the rails while dictating how your AC will look, as players can apply any type of color on any section of the AC's body. You can get as detailed as putting a single color on a small section of a leg, for instance, or apply player-created emblems to make references, as I've seen Evangelion or Gundam-inspired paint jobs in just the first week of the game's release.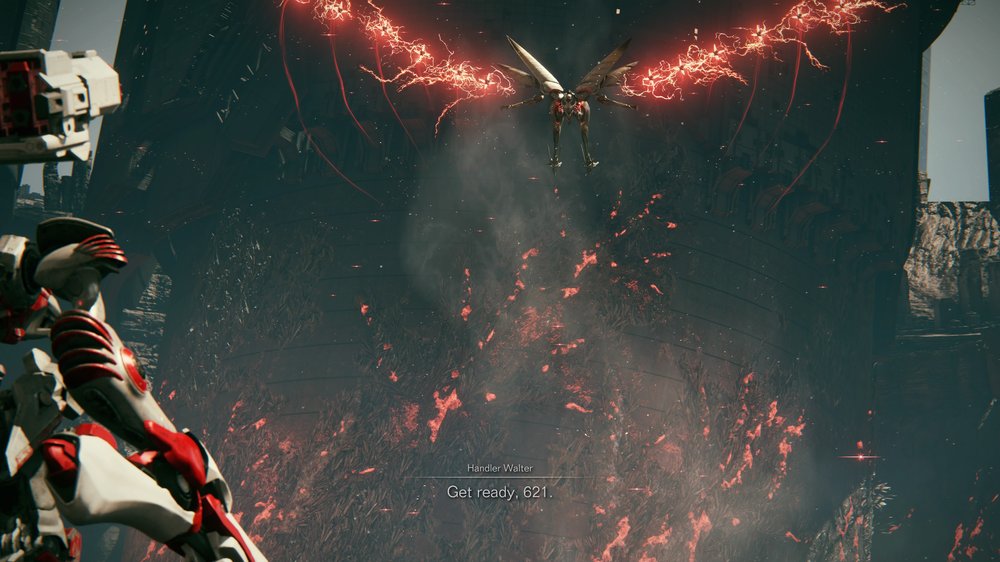 Everything about what I wanted out of a new Armored Core game is present in Fires of Rubicon. It's crazy how we have a title that looks visually stunning and performs so well that there is barely any hiccup that detaches you from the experience – no bugs that would be a perfect candidate for being a viral social media post, or systems that would make you play the game frustrated or discouraged. The online mode even works great, as while it's the only part of the game that feels barebones, it works as intended as a space for players to test their creations against other players in either 1v1 or 3v3 scenarios. There's also a PvE Arena mode, where you will get to duel other ACs for currency and OS chips to upgrade your build. 
FromSoftware did not disappoint at revitalizing this series with Armored Core VI: Fires of Rubicon, a title that superbly balances the parts and loadout of a fantastic Armored Core game while injecting the studio's now-well-known specialty. This is a title that old AC fans will adore, and a great entry-point for those new to the series as Armored Core is back and better than ever. Once you start playing this one, no other game with mecha gameplay will feel the same again.
---
Verdict: 4/5 (Fantastic)
We've recently changed our review score format from a 10 score rating to a 5 score rating. You can check out the definition of the new review score system on our About Us page.
PROS
Fantastic Armored Core gameplay 

Challenging boss battles that constantly remind you who created this game

A large amount of customization and viable combinations

CONS
The story is serviceable, but can easily be overshadowed by the game's stellar gameplay

Online mode is basic
*This review is based on a PS5 code provided by the publisher
---