I'll never forget the day I booted up my SEGA Dreamcast and first played the original Jet Set Radio. My 12-year-old brain could barely comprehend the absolute coolness of that game – it was a unique, never-before-seen combination of slick cel-shaded graphics, an incredible soundtrack of funky fresh beats, and graffiti tagging, police-evading gameplay, where you'd be tasked with navigating fun environments in acrobatic ways to claim territory for your own street gang. There were only two games in the short-lived but beloved series, and while Jet Set Radio 3 had been a pipe dream for many years, fans' dreams have finally come true with this incredible spiritual sequel.
Bomb Rush Cyberfunk, developed by indie studio Team Reptile, is in nearly every way that sequel we never got, but it is also more than that. It's a refinement of the gameplay concepts and mechanics, and there's more of a story this time, as our hero is straight-up decapitated at the end of the game's first scene. After being resurrected as a cyborg, Red and an up-and-coming gang called Bomb Rush Cyberfunk go in search of his original head, while simultaneously attempting to go "All City" by expanding their territory. The story, which features a couple of mysteries and several mind-bending dream sequences, was surprisingly the most compelling part of the game for me. Although the characters are fairly one-dimensional, they don't need to be anything more, and that doesn't keep them from being memorable and interesting.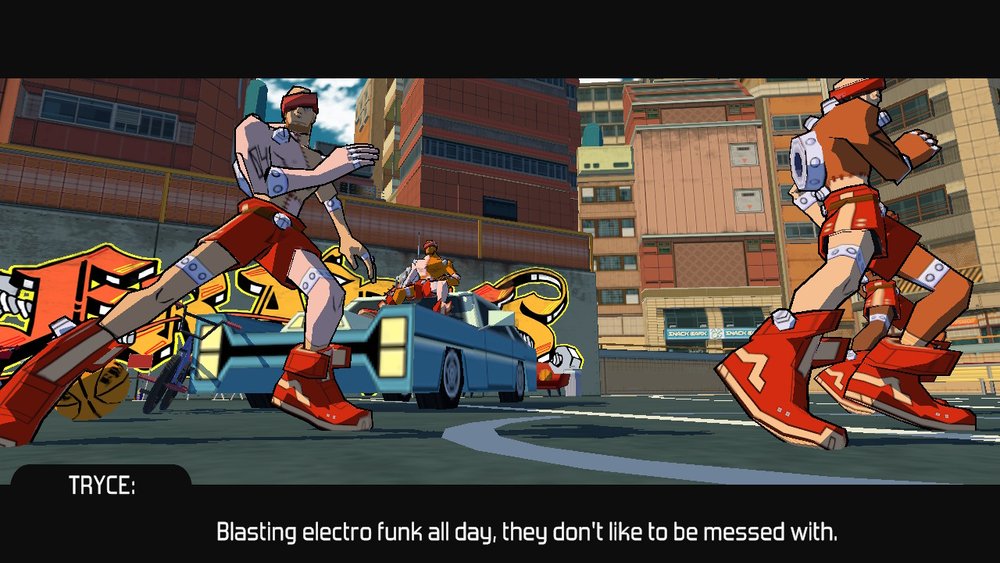 Machine Heads, Electric Dreams, and Endless Trickery
As for the city itself, it's divided into five boroughs, which are in turn divided into multiple sections, each with fantastically vertical level design. You'll be challenging five street gangs, but the progression and challenges throughout adhere to a set formula, where you'll be vying for 'Rep' by marking your territory until you can challenge each region's ruling gang in a team score attack run. All throughout, you'll be taking on a combination of score attack and trick challenges, including trying to recreate trick sequences.
Bomb Rush Cyberfunk takes an entire chapter out of the Tony Hawk's Pro Skater playbook, as a large part of the fun lies in racking up and sustaining long combos of various tricks. This won't be a huge challenge for veterans of those games, but the arcade-style gameplay does provide for a fun loop as you can rack up crazy combos just by traversing the city, extending your chains by grinding, using slides and manuals, and even spraying graffiti in the middle of a combo. 
This is all done very fluidly with precise controls, although your characters' floaty weight and dynamic camera may take a little while to get used to. In fact, the close and constantly moving camera was one of the more frustrating aspects of the game to me. Every time you wall-ride (which can only be done on billboards), the camera spins on its side, which was disorienting for me with regards to aiming my subsequent jumps. This issue was exacerbated by dropped frames and slowdown while playing in handheld mode on the Switch. Thankfully, the game ran much smoother in docked mode, and I am happy to report that, unlike the Jet Set Radio games, the second thumbstick allows for camera control, and tricks are easily pulled off with the face buttons.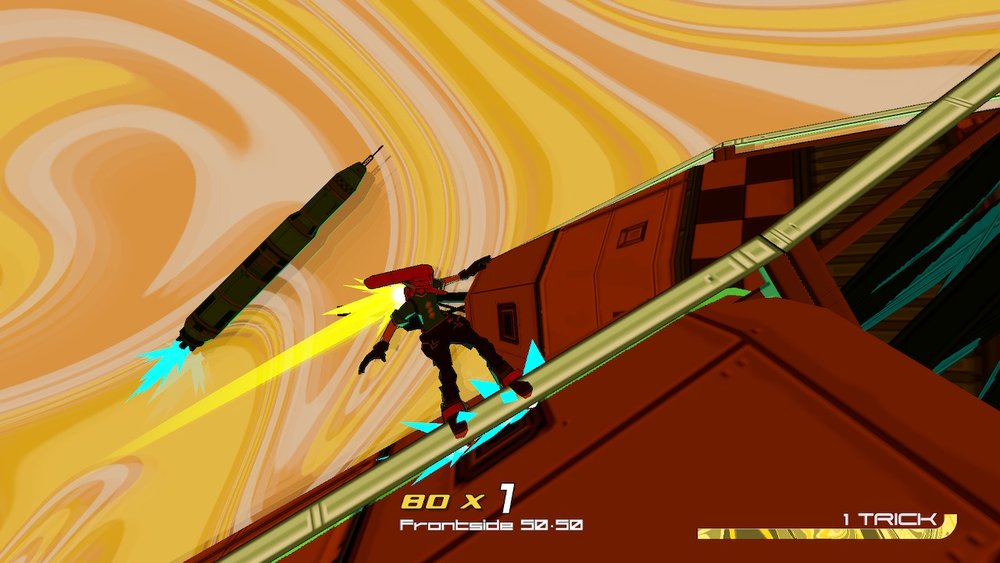 The Rule of Cool Always Wins Out
What surprised me was that Bomb Rush Cyberfunk features a rudimentary combat system. Not only will you have to fight off the law by dodging and tagging policemen who literally pop out of holes in the ground (and their hook-shooting turrets), but the game also features several boss battles. The combat is nothing to write home about, but it is serviceable and provides a change of pace from zipping around the city all the time. 
One of the game's coolest aspects lies in its ability to grow your gang, and thus recruit more playable characters, though at times you'll be forced to play Red in certain sections. In another major change from Jet Set Radio, you can use either a skateboard, rollerblades, or BMX (they're functionally similar), and even can put away your wheeled vehicles to walk, slide, and jump, and for different combat movesets. 
Perhaps the most striking thing about Bomb Ruch Cyberfunk is the soundtrack. Some amazing artists contribute to the game's bopping playlist. Even Jet Set Radio's Hideki Naganuma drops a track. Some of the earlier songs do get repetitive, but this is one soundtrack I wouldn't mind listening to while riding or driving. The visuals are equally striking, and although Bomb Rush Cyberfunk won't be mistaken for a AAA game, its bright colors and cel-shaded graphics definitely feel like a throwback to the Jet Set Radio games, so much so that they almost feel like they exist in the same universe.
Bomb Rush Cyberfunk scratches a decades-long itch that I didn't know needed to be scratched, providing a refinement of the fast-paced, tag-and-grind arcade experience seen in SEGA's Jet Set Radio. I wish I could say that Bomb Rush Cyberfunk was a perfect experience, and many times it does come close to it, immersing the player entirely in its uniquely-styled world. But for veterans of games like Jet Set Radio and Tony Hawk's Pro Skater, maintaining long combos will soon become second nature, thus making progression feel easy (though always satisfying). Thankfully, there's no shortage of post-game challenges that will task you with, say, racking up scores in the millions of points within set time limits, and there's plenty of collectibles, art, and other items such as differently-styled decks to provide replay value.
Your Move, SEGA
Bomb Rush Cyberfunk is a hell of a mic drop. It's as if Team Reptile took a good, hard look at all of the elements that worked and didn't in the Jet Set Radio games and decided to refine them to a T. While it's no reinvention of the wheel, it's definitely a more compelling and accessible take on the formula that has a lot to recommend it, both for fans of those titles and younger gamers in search of something new. However, I do think that the current $39.99 asking price on Steam is a bit high given the fact that the base game can be beaten in a long weekend, leaving only challenges and collectibles for completionists, but your mileage will vary.
---
Verdict: 4/5 (Fantastic)
We've recently changed our review score format from a 10 score rating to a 5 score rating. You can check out the definition of the new review score system on our About Us page.
PROS
An awesome revisitation and refinement of the unique Jet Set Radio formula

Eighteen playable characters, with many unlockable skateboards, rollerblades, and BMX decks

Incredible soundtrack and compelling story

CONS
Relatively easy for veterans of the sub-genre

Gameplay progression can feel repetitive
What I've Played 
Completed my first playthrough at 28 hours

Going through NG+ for extra endings

Completed all Arena battles

Did a few multiplayer matches (solo and 3v3)
---