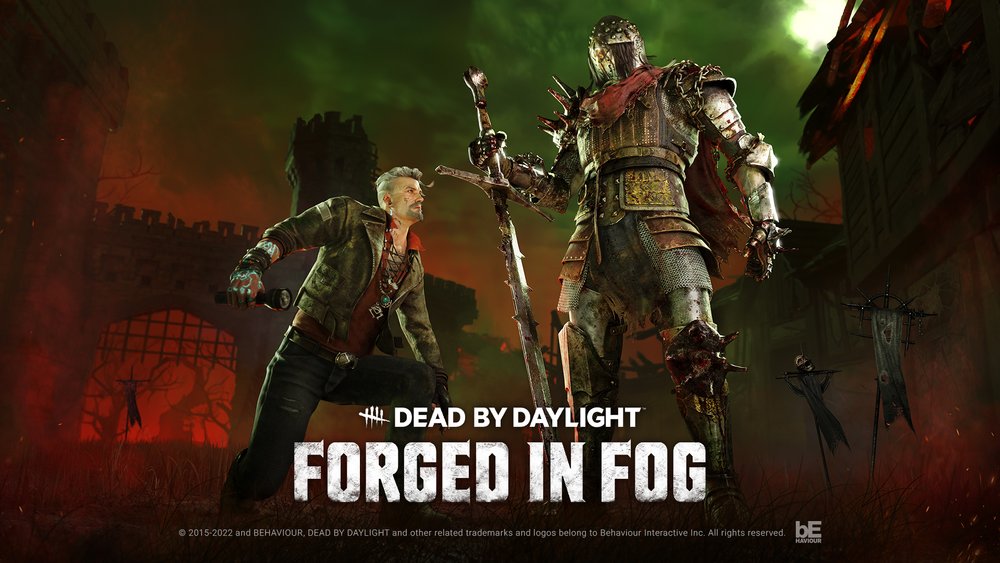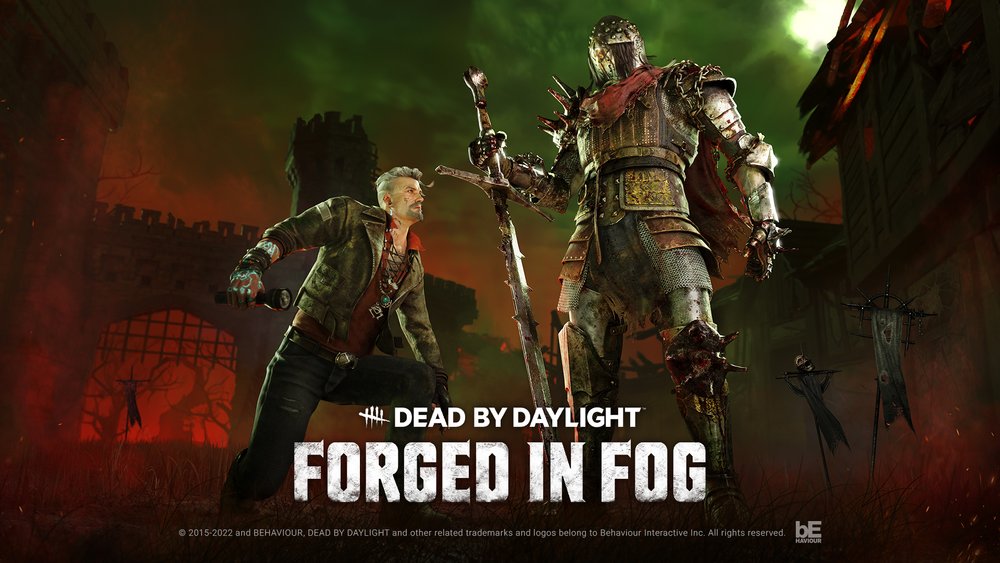 Behaviour Interactive have revealed Chapter 26 for Dead by Daylight. Titled 'Forged in Fog', as this major update adds the medieval Killer The Knight, a new Survivor Vittorio Toscano, and a new map called The Shattered Square. 
Dead by Daylight is going medieval horror in this update and is "uncharted territory in our universe" explains Dave Richard, the Creative Director for Dead by Daylight.  "Bringing these two concepts to life has been thrilling and I am very proud of what we've accomplished." These genre elements are evident throughout The Shattered Square, where the cinders of burnt buildings still glow, remnants of The Knight's fateful visit…and since marked by the passage of The Entity."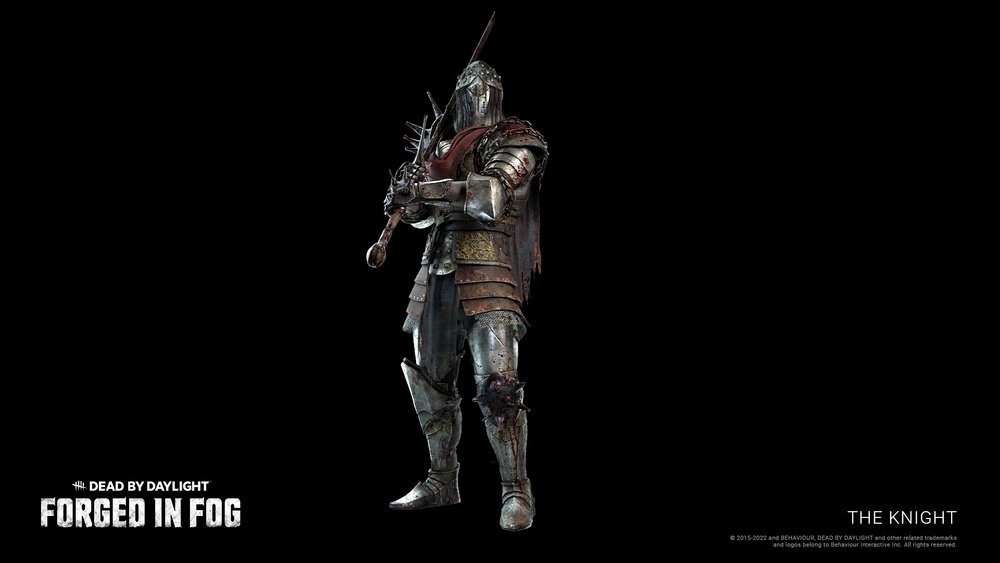 The Knight killer is introducing another use of AI mechanics to the game with his Guardia Compagnia power, allowing the killer to create a Patrol Path and summon an AI-controlled Guard, which also leaves a Standard Flag where Survivors can interact with. Once the Killer summons a Guard, it then survey and patrols a path, hunting and chasing Survivors, even damaging Pallets and even Generators in its path. When a Survivor is spotted, the Guard plants a Standard and will chase the player for a set amount of time until disappearing, or once the target is wounded. The Survivor can keep running until the Hunt Timer ends, or by unhooking a Survivor, or picking up the Standard Flag that spawns when the killer uses its power.

There are three types of Guards with The Knight and has unique perks.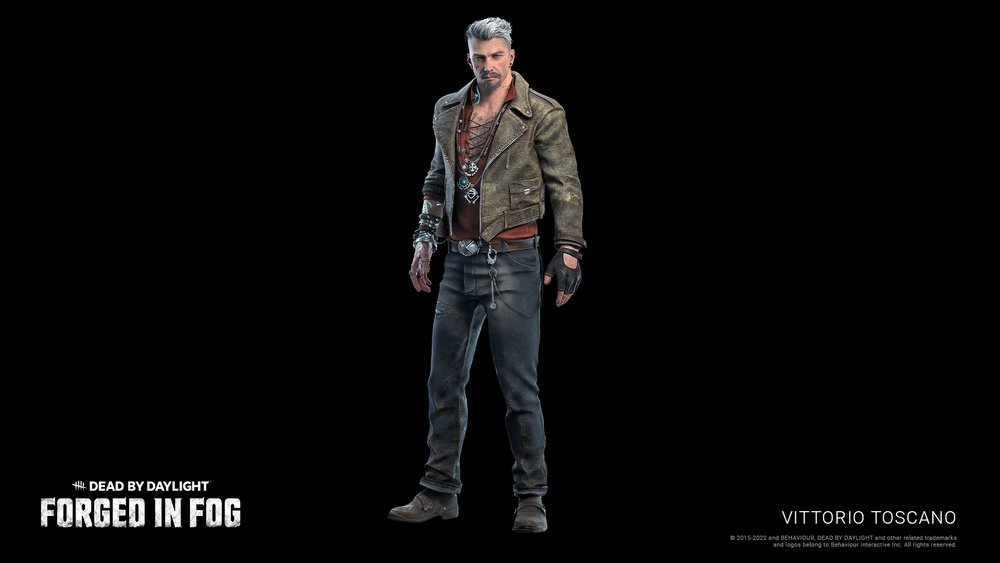 As for the new Survivor joining the game, here's how Behaviour Interactive describes him:
"Born into lordship, Vittorio Toscano is a scholar in search of ancient secrets and obscurities. He has an unquenchable thirst for knowledge, driven by a relentless quest to bring peace, harmony, and order to the world. After many expeditions, Vittorio encountered The Knight. While their relationship was initially mutually beneficial, things changed once The Knight revealed his true intentions…."
Here's a rundown of the new Survivor and Killer perks based on the 6.4.0 PTB patch notes.
New Killer – The Knight
New Perk – Nowhere to Hide

Whenever you damage a generator, reveal the aura of all survivors standing within 24 meters of your position for 3/4/5 seconds.

New Perk – Hex: Face the Darkness

When this Hex is inactive and you injure a Survivor, a Dull Totem becomes lit and hexes that Survivor. When the Hex is active, all other Survivors outside of your Terror Radius will have a chance to scream intermittently, revealing their positions and auras for 2 seconds. Other Survivors also see the aura of the cursed Survivor for 12/10/8 seconds. When the cursed Survivor is downed or returned to full health, the Hex is lifted, and the Hex Totem becomes unlit. Cleansing the Hex totem deactivates Hex: Face the Darkness permanently.

New Perk – Hubris

Whenever you are stunned by a Survivor, that Survivor suffers from the Exposed status effect for 10/15/20 seconds. Hubris has a cooldown of 20 seconds.
New Survivor – Vittorio Toscano
New Perk – Potential Energy

After working on a generator for 12/10/8 uninterrupted seconds, press the Active Ability Button 2 to activate this perk. When this perk is active, repairing the generator will charge this perk instead of making the generator progress. For each 1.5% of generator repair, the perk will gain one token, up to 20 tokens. While this perk has at least one token and you are working on a generator, you can press the Active Ability Button 2 to consume all the tokens and instantly make the generator progress by 1% for each token. This perk then deactivates. If you lose a health state while this perk has at least 1 tokens, the perk will lose all tokens and deactivate. Missing a skill check will also result in some charges lost.

New Perk – Fogwise

Hitting a great Skill Check while repairing a generator reveals the aura of the Killer to you for 4/5/6 seconds.

New Perk – Quick Gambit

When you are chased within 24 meters of any generator, any other Survivor working on that generator receives a 6/7/8% speed boost to the repair action.
The Dead by Daylight Forged in Fog chapter will be available on November 22nd 2022, on Steam, PS5, PS4, Xbox One, Xbox Series X|S, Epic Games Store, Windows Store and Nintendo Switch. PTB for Chapter 26 is now live , so you can try out the new content and the changes done to the game for free.
The Halloween event of Dead by Daylight titled Haunted by Daylight is still currently underway and will be around until November 3. 
---