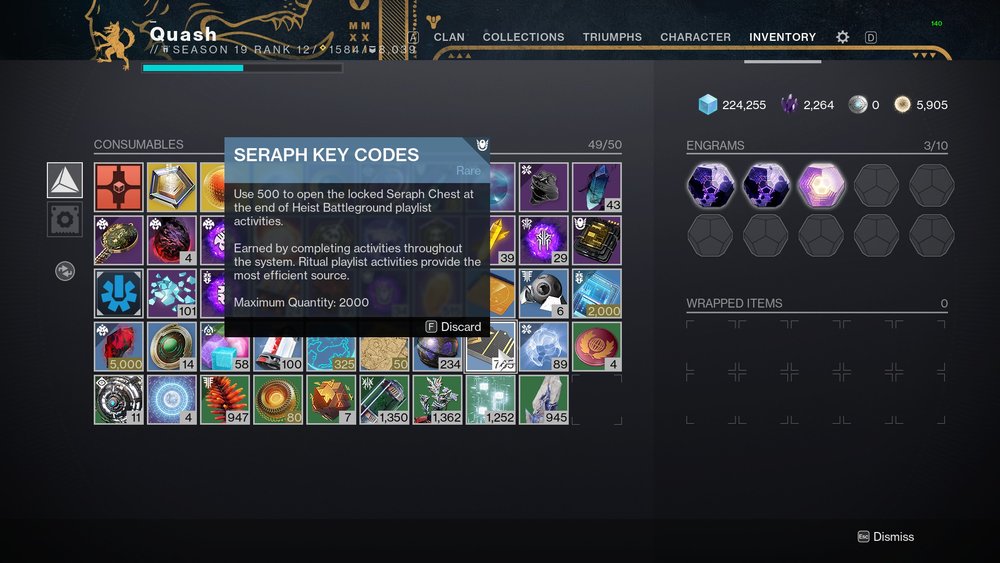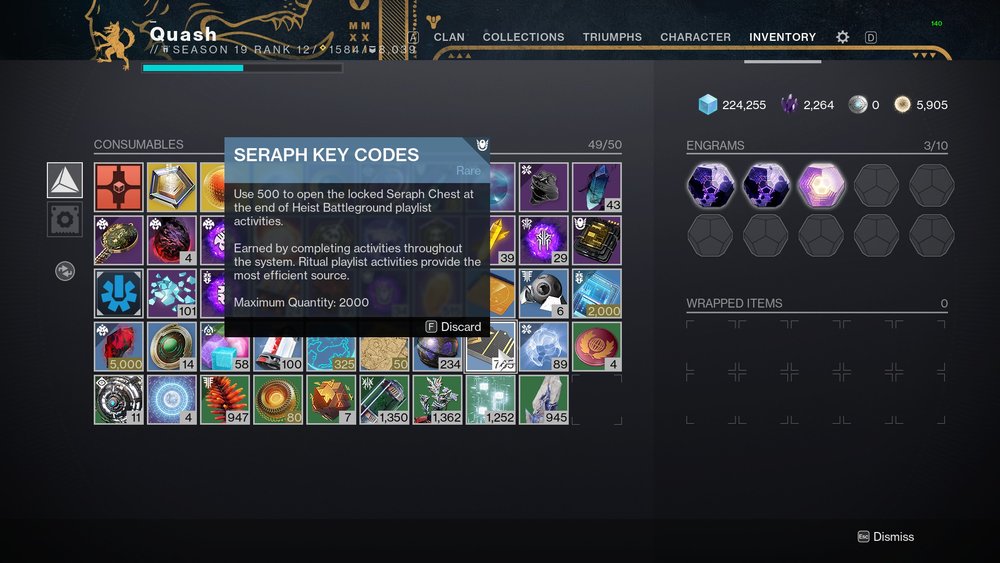 Destiny 2 Season of the Seraph Guide – Best ways to earn Seraph Key Codes
Season 19 features a new currency to farm called Seraph Key Codes as using them will unlock the extra chest found at the end of the seasonal Heist Battleground activities. There's a lot of new gear to earn so here's a guide on the best way to earn Seraph keys. 
Destiny 2 – How to earn Seraph Key Codes
After doing the introduction mission, earning this season's Artifact, and being given the Resonance Amp, you can now start earning Seraph Keys as any activity you do in Destiny 2 will reward you with a chunk of them. 
When I say all activities, I mean all of them. 
When you complete this week's 'More than a Weapon story mission, I did earn 250 Seraph Key Codes, so you'll naturally earn as the seasonal story progresses.
Right now, the amount of Seraph Key Codes you can hold is capped at 2,000. So, be sure to play the new Heist Battleground playlist to make use of what you have in your inventory. When you complete the activity, the extra chest requires 500 Seraph Key Codes to open, which usually contains gear from this season. It also contains Resonant Stems, which can be used to create Override Frequencies to earn the latest versions of the IKOLOS weapons.
In case you're unfamiliar with the locations of each Resonance Amp Nodes, check out my guide detailing where to find each one.
Here's how much Seraph Key Codes you'll earn when completing a specific activity. This is based on what we've experienced so far:
Patrols – 5 Seraph Key Codes
Lost Sector – 30 Seraph Key Codes
Legend Lost Sectors – 70 Seraph Key Codes
Normal Public Event – 250 Seraph Key Codes
Playlist Strikes – 280 Seraph Key Codes
Nightfall Strike (PL 1550) – 520 Seraph Key Codes
Manual Strikes (tested with Lost of Shadows) – 150 Seraph Key Codes
Gambit – 280 Seraph Key Codes
Crucible 285 Seraph Key Codes
Kings Fall encounters – 200 Seraph Key Codes
These figures will likely change over the course of the season as I won't be surprised if Bungie decides to randomly adjust the figures in future patches. We'll update this page if there are any changes, but hopefully this gives you a good idea of what activities are worth pursuing if you're focused on opening Seraph chests. 
If you own the paid version of this season's Season Pass, you'll earn a passive upgrade that increases the amount of Seraph Key Codes you earn per activity. You unlock these at Season Level 12 and 32. 
You can also increase how much you earn by unlocking certain perks in the Exo Frame found in the H.E.L.M. Use an Exo Frame Module to upgrade and unlock the Seraph Key Code Bounties, making Exo Frame bounties reward you with Seraph Key Codes. You'll need to have at least two Exo Frame upgrades already unlocked before unlocking it.
The second perk to consider in order to improves how many codes you earn is the Seraph Key Code Combatants perk, which simply gives you a chance to earn codes when defeating enemies. This one requires at least five Exo Frame upgrades already unlocked, so key an eye on this one in the future when more modules become available.
Lastly, you'll want to unlock the Seraph Key Code Capacity perk as it increases the cap from 2,000 to 4,000. This requires at least four Exo Frame upgrades unlocked.
Best way to earn Seraph Key Codes
The most efficient way to earn Seraph Key Codes in our experience is run through Public or Heroic Public events. EDZ remains as a good spot for farming as it's a small area with Public Events showing up at a good rate. 
If you really want to speed things up and have an efficient Fireteam, you can do the Lost Shadows Strike for 150 Seraph Key Codes per run. If done quickly, you can complete the Strike in around 5 minutes or less. 
Another great option is of course Nightfall Strikes. The higher PL the better as you not only get a good chunk of Seraph Key Codes, you get other rewards for doing the current week's Nightfall. 
When you farm, make sure you keep an eye on how much you currently have. The last thing you want happening is going into an activity and not earning any Keys because you reached the cap. 
We'll update this guide if new methods are learned as the Season of the Seraph progresses.
---