Developer Turn 10 Studios announced new information about their upcoming realistic racing game Forza Motorsport with one of them being the PC system requirements from its lowest possible setting to its ideal setting to get the best out of the game.
Here's a rundown below.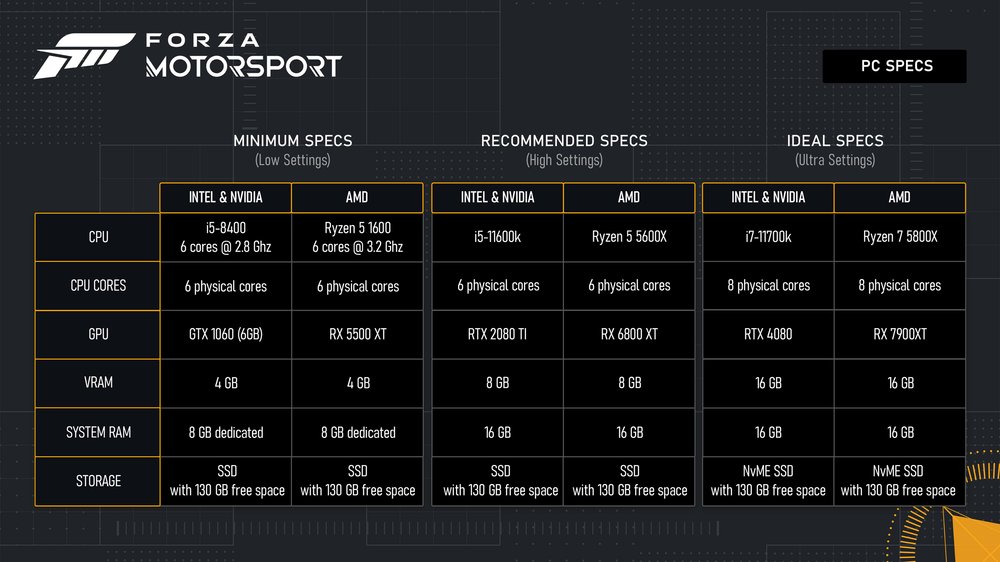 Minimum (low settings)
CPU: Intel i5-8400 2.8GHz or AMD Ryzen 5 1600 3.2Ghz

GPU: Nvidia GTX 1060 (6GB) or AMD RX 5500 XT (4GB)

RAM: 8GB

Storage: 130GB SSD
Recommended (high settings)
CPU: Intel i5-11600k or AMD Ryzen 5 5600X

GPU: Nvidia RTX 2080 Ti (8GB) or AMD RX 6800 XT (8GB)

RAM: 16GB

Storage: 130GB SSD
Ideal (ultra settings)
CPU: Intel i7-11700k or AMD Ryzen 7 5800X

GPU: Nvidia RTX 4080 (16GB) or AMD RX 7900XT (16GB)

RAM: 16GB

Storage: 130GB NvME SSD
It's no surprise that the max possible setting is pretty demanding as the franchise is known for its impressive visual quality and realism, but what's curious is how big of a visual leap the quality be if those jump in with the lowest possible setting. We'll see come release.
Forza Motorsports on PC will support NVIDIA DLSS 2 and AMD FSR 2.2, 4K resolution, ultrawide resolution during on-track gameplay, HDR calibration, shader pre-compilation and pre-caching, DirectStorage, and unlock framerates for single-player with or without V-Sync enabled.
Forza Motorsport pre-orders now live
Speaking of release, players can now opt to pre-order Forza Motorsport starting today now only on the Microsoft Store but also through Steam as both platforms will feature cross-play and cross-progression together with Xbox consoles.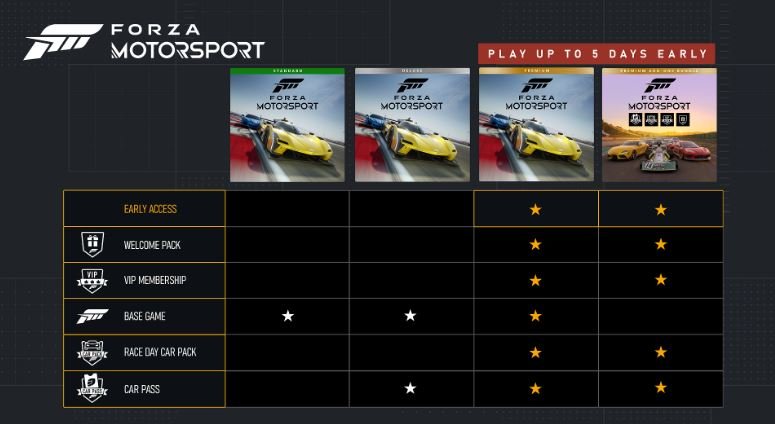 Those who plan to pre-order the game can get to play the game five days earlier if they opt for the Premium Edition which costs $99.99 (~PHP 4,999). The package includes a VIP Membership, a Car Pass, a Race Day Care Pack and a Welcome Pack DLCs.
A standard copy of the game simply gives you the base game while the Deluxe Edition ($89.99) comes with a Car Pass, which is said to slowly deliver 30 cars to you weekly after release.
With it being Gamescom 2023 week, it was only fitting that Turn 10 announced Cologn, Germany's world-famous Nürburgring GP circuit will be available on the game's launch day. They also revealed that they are working to release the 12.9-mile (20.83 km) Nordschleife track in Spring 2024. The developers state that both tracks announced were completely rebuilt for the game.
Forza Motorsports is set to release on October 10, 2023 on Xbox Series X|S, Xbox One, and PC (Windows and Steam)
---