Hello Travelers! The Genshin Impact dev team is back and today we'd like to bring you the latest information on the new landscapes, stories, and companions that will be introduced in Genshin Impact version 4.1 To the Stars Shining in the Depths on September 27.
With the latest update, the area north of the prosperous Court of Fontaine will be open for exploration. This area features a massive underwater fortress inhabited by exiles as well as mysterious ruins floating in the air, abandoned following a fatal laboratory accident. The two new five-star playable characters, Neuvillette and Wriothesley, will also play important roles in the Archon Quests that await you.
Far from Fontaine, the people of Liyue and Mondstadt are hosting a poetry festival together to honor friendship and love! To celebrate the upcoming third anniversary of Genshin Impact with all Travelers, we have prepared a special daily login event for you. Take part to receive up to Intertwined Fates ×10, Primogems ×1,600, and 2 exclusive gadgets as tokens of our appreciation.
Danger lurking beneath the waters
Deep in the vast waters of the Liffey Region lies the Fortress of Meropide. This metal edifice detains criminals from all over Fontaine, but exercises self-governance, independent of Fontaine's legal system. Watch out for spotlights when you approach the Fortress.
However, the Fortress of Meropide is not just a place for convicts. Inside, one can admire an intricate network of gears and pipelines spanning multiple levels into the depths of the Fortress, where more of the site's functions and mysteries are revealed. Our main storyline also picks up here as we search for Childe. Wriothesley, the Chief Administrator of the Fortress of Meropide, and the Fatui Harbinger Arlecchino will also make their debut in version 4.1.
In addition to the Fortress of Meropide, the vast water of the Liffey Region is also home to a beautiful yet dangerous monster. With a phantasmal beauty, the Millennial Pearl Seahorse can leap high into the air and unleash fierce Electro attacks.
The lofty ambition of the Fontaine Research Institute
Floating in mid-air, the Allogravity-Condensed Water Body and remnants of the previous Fontaine Research Institute tell the catastrophic consequences of an experiment gone awry. Throughout its long history, the Fontaine Research Institute has been searching for solutions to survive the prophesied flood that will dissolve the people of this nation, and harnessing the energy of Arkhium to defy gravity was once considered the key. Unfortunately, this endeavor tragically resulted in a massive explosion, sending several giant blocks of Allogravity-Condensed Water Bodies and ruins ascending to the sky. However, these floating water bodies have also preserved aquatic life and parts of the old institute, which can be explored to aid the current research of the Fontaine Research Institute.
The new boss Experimental Field Generator is also one of these vestiges. It was once a device used to counteract the effects of gravity but has gone out of control since the accident. In combat, you will experience weightlessness effects which will prove useful for jumping higher and dodging the boss' attacks.
Ludex and Administrator of the Fortress of Meropide
As the plot of version 4.1 unfolds, two characters who occupy high positions will come to your assistance. Neuvillette is the Iudex who oversees the legal system of Fontaine, while Wriothesley is the Administrator of the Fortress of Meropide who keeps a watchful eye over all the outlaws.
The Chief Justice, or otherwise known as Iudex Neuvillette is a highly revered figure in Fontaine, known for his unwavering impartiality. However, Neuvillette has a soft spot for Melusines, and he is fond of tasting water from all over Teyvat. More stories about Neuvillette and Melusines can be found in his Story Quest Diluvies Chapter.
In combat, Neuvillette is a skillful Hydro Catalyst wielder. His Charged Attack can release a stream of surging torrents at the cost of his health to attack all foes in its path. His Elemental Skill and Elemental Burst can also generate Sourcewater Droplets which can be absorbed by his Charged Attack to heal and accelerate charging.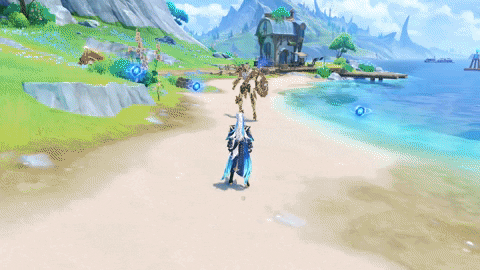 Another new companion Wriothesley is known as the Administrator of the Fortress of Meropide. His brain and brawn have earned him the respect of the citizens, as well as that of the outlaws. Thanks to a series of reforms carried out by him, the Fortress of Meropide has become a habitable space where vicious criminals and the underprivileged are taken care of. You can find out more about this Duke and the Lord of the Fortress of Meropide in his Story Quest Cerberus Chapter.
In combat, Wriothesley excels at combining his melee attacks with the power of Cryo and his catalyst. His Normal and Charged Attacks can deal Cryo DMG, while his Elemental Skill attracts enemies and boosts his Normal Attack at the cost of his HP. When his health drops to a precarious level, he can inflict a powerful blow to restore HP.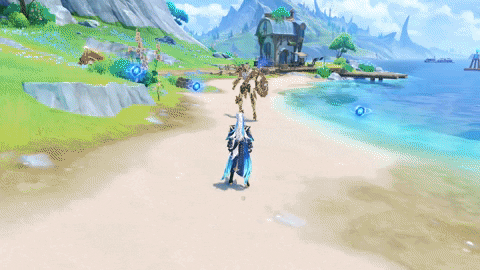 For version 4.1 Event Wishes, Neuvillette will debut in the first half with Hu Tao's rerun, while the latter half will see Wriothesley's debut and Venti's rerun.
A poetry festival of friendship and love
Taking a momentary break from adventures in Fontaine, a poetry festival will greet you with beautiful words and friendship from Liyue and Mondstadt. To fulfill the promise made at the previous Lantern Rite, Hu Tao and Venti join hands to host a poetry festival, telling a heartwarming story about friendship and love that stood the test of time. Festive activities and mini-games will also be available, such as a special dart-throwing game called Hundred-Pace Hurling Rites and Mending Painting Prospects to piece together paintings based on Teyvat scenery. By accumulating Poetry Gala Fervor from those mini-games, Travelers will have the chance to obtain the exclusive 4-star catalyst Ballad of the Boundless Blue.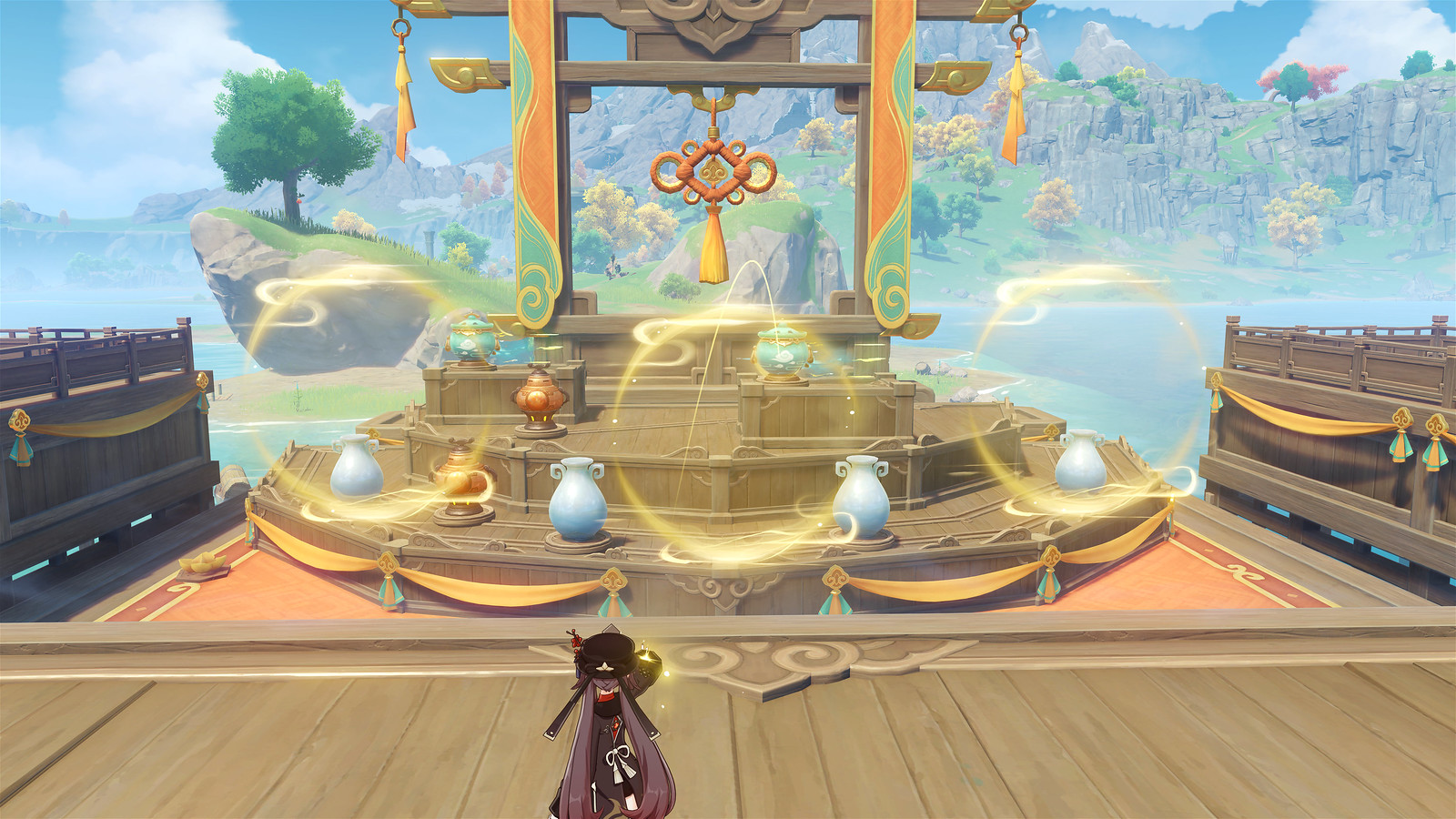 As Genshin Impact is about to turn three years old, we would like to thank every one of you for supporting us in the past, present, and future. The special daily login event with up to Intertwined Fates ×10 will be back once again. Do also remember to check out your in-game mailbox later, as we will be giving out Primogems ×1,600, Fragile Resin ×4, and two unique gadgets Portable Aerodynamic Gelatinous Bubble Generator and Itty Bitty Octobaby as tokens of our shared memories. Last but not least, we hope you have a wonderful time with new encounters in Fontaine as well as old friends in other regions, and we look forward to seeing you again in the next update!