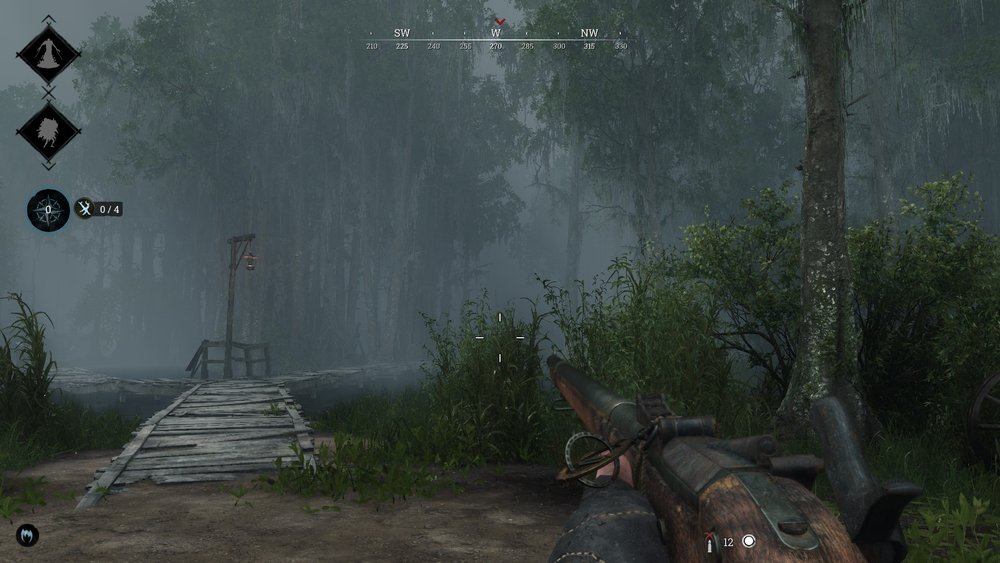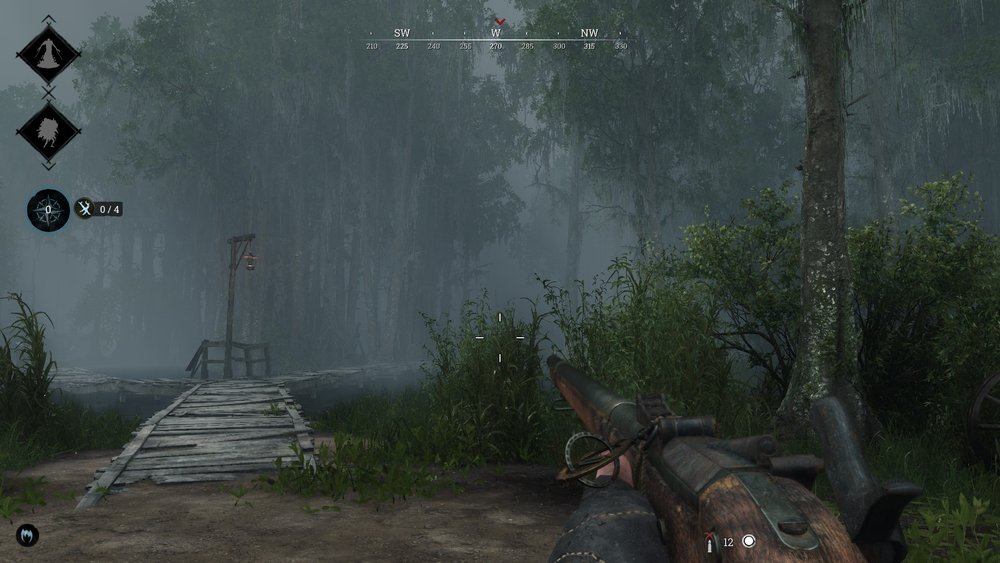 Hunt: Showdown can be a nerve-wracking but satisfying shooter that new players might feel overwhelmed or go broke before they can really enjoy the best this game has to offer. If you are looking to save up but go in with a viable loadout without burning your cash, we have a detailed guide to hopefully help you maintain your economy while learning the ins and outs of the game.
For returning players, you'd appreciate a couple of budget loadouts in your back pocket as every now and then it would be good to slow down burning your cash after a few failed hunts with expensive gear. 
*This list is based on the Tides of Shadows update.
This guide is designed to be cheap but also still be a threat during a match.
The Tools
First-Aid Kit ($30)
this is a no-brain as the game even reminds you that you don't have it on your loadout when you try to queue for a game. Always bring this as it will always be your source of healing before, during, or after a fight. 
Knuckle Knife ($15)
In Hunt: Showdown, you need a melee weapon for all the PvE populating the map, and the Knuckle Knife is not only the perfect melee tool for budget loadout, but some can also arguably say its one of the best choices even for high-end loadouts as this tool gives you the option to either stab or deal blunt damage. 
The blunt damage is very important as Immolators will not explode if they were hit by blunt attacks, and the stab option is a good option to kill most enemies, even players as a stab from this to the head is lights out.
Throwing Axes ($30)
Bringing a throwable weapon is ideal but not mandatory, so you can even leave this out of your budget loadout to save even more Hunt Dollars. If you do bring it, it gives you more options, such as a way to deal Grunts or Hives from afar or even damage bosses in medium range quietly.
Throwing Axes is better for a budget loadout as it's cheaper than throwing knives and somehow it feels like it's the easiest to use. 
If you don't bring Throwing Axes, that's just $45 for tools.
The Consumables
Consumables can be expensive, which is why it is suggested that you don't fill up most slots. At best, just use one as you can get consumables in a match. All you need to look for are those yellow toolboxes (found in Supply wagons, towers, compounds) as they can sometimes give you a random consumable that might just turn the tide of a fight. 
Here are two great and cheap consumables to consider if you do want to bring something.
2 Weak Vitality Shot ($20)
for budget loadouts, the weakest version of the Vitality Shot is the only mandatory item I would suggest as this is a tool to quickly heal you and get back to the fight.
Most of the time, when you get shot and are below 50% health, the player that shot you knows the advantage he is in and will likely push you to finish the job. In this situation, First-Aid Kits will likely get you killed and you'll be thankful to have a Vitality shot at the ready for situations like this. It also doesn't hurt your economy too much as each weak Vitality Shot is just 20 Hunt Dollars. 
Dynamite ($18) – This is not mandatory, but if you do want to bring something with a bang your best bet would be the Dynamite. It has a four-second fuse and with a good enough throw you might just get a player with one of them, and it feels good to get a kill with it as this item is pretty cheap.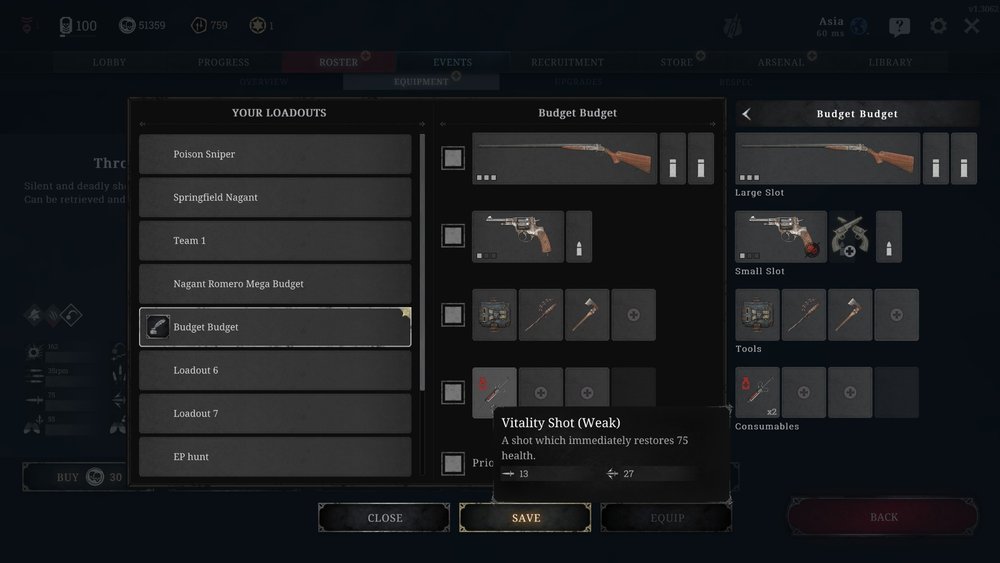 Budget Weapon Combo 1 ($90)
Romero 77 ($66) – If you are looking for a reliable shotgun at a cheap price you can't go wrong with a Romero 77. The long-arm version of this gun will kill any player in the chest at close range, so it will be ideal for close-quarter fights inside compounds. The only issue is it has a single shot and reloading can take a while, so you'll have to make it count.
Nagant M1895 ($24)
The Nagant can be a good choice and with it having a fast fire rate, this pistol will be your lifeline, especially when your Romero shot doesn't finish the job. 
This setup makes you weak against mid to long-range fights though, so it's best you get in a compound and close the distance as much as possible.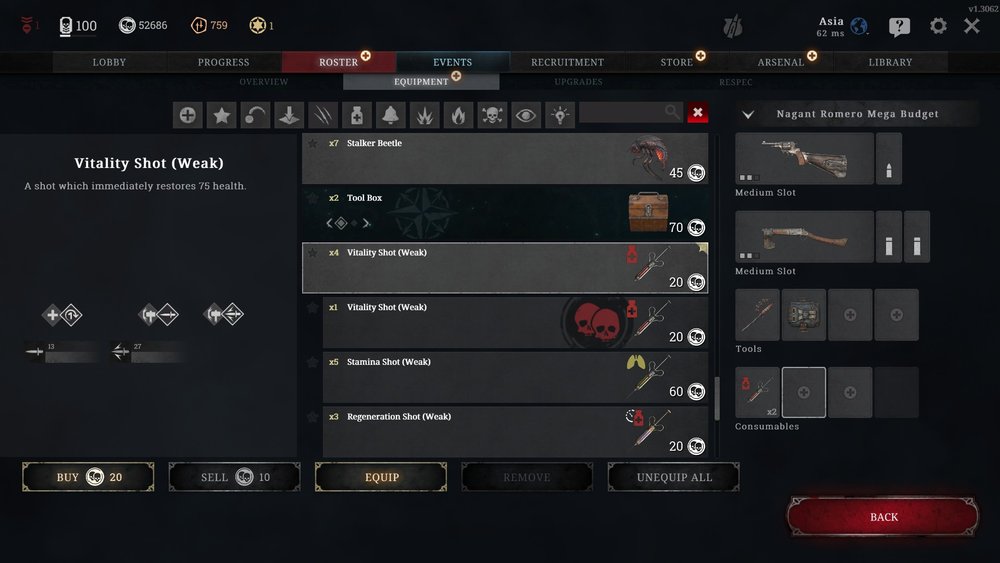 Budget Weapon Combo 2 ($111)
Nagant M1895 Precision ($29) 
Don't be fooled by this Nagant's price as it's actually a great mid-range weapon. It's pretty good for headshots and with the decent fire rate you can apply good pressure at a distance. If you're a good shot, you might just get a few kills.
Romero 77 Hatchet ($82) 
On the other hand, if players close the gap on you, you can easily switch to a Romero to make them regret their decision to get up close. If you miss the Romero shot you're not completely hopeless as you can use the gun's hatchet to take someone down. This version of the weapon is weaker than the normal Romero, so you better make sure most of the shot hits the chest.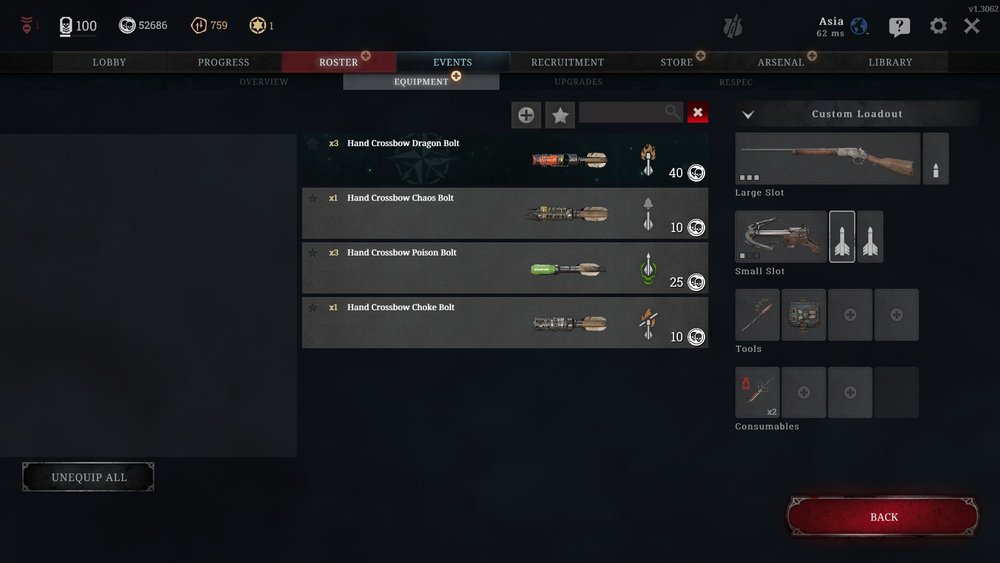 Budget Weapon Combo 3 ($71)
Winfield M1873C ($41)
This level-action rifle is a fantastic versatile weapon that has an effective headshot range of 150m. You can easily two-tap players if shot in the chest as well, making it the best budget rifle that makes you a decent threat to even those with the most expensive guns.
Hand Crossbow ($30) 
With how versatile and reliable the Winfield M1873C can be in most fights, you can consider bringing a Hand Crossbow for silent takedowns while gathering the clues in the map. If you are a good shot, you can severely injure a player with this weapon if you hit the chest and apply some bleeding. 
If you're willing to spend a bit extra, for just $50 Hunt Dollars you can bring poison arrows for more utility as each arrow fired leaves a poison gas on the ground, poisoning anything that enters it, making it an ideal tool to close off entrances with poison. Just keep in mind that antidote shots make players immune to poison.
Budget Weapon 4 ($118)
Springfield 1866 ($38)
This one-shot rifle was given a buff recently and I've been enjoying this gun even on normal builds as when you hit someone with this rifle, it will hurt and you'll be forcing him to be on the defensive. The fact that it's so cheap makes it a great weapon to consider for medium-range fights. Long-range is possible but the normal version only has iron sights, so it will be tough. The gun also has an effective range of 212 meters, so you can even call this a budget Sparks.
If you are willing to spend a bit extra, adding dumdum ammo ($25) to make each shot add bleed is pretty strong right now. In the right circumstances, a bullet from this gun is so painful that if they don't close the bleeding from a dumdum ammo, the player could die in seconds. 
Caldwell Pax ($80)
With Springfield only having one shot per reload, I would go with the Caldwell Pax as a secondary. If you miss your first shot with your rifle, you need a reliable secondary and this pistol definitely does the job. This is the most expensive weapon in the list of weapons suggested in this guide, but it's not so bad considering the price of the Springfield. If you don't know what pistol to bring, you can never go wrong with the Caldwell Pax.
Budget Combo 5 ($130)
Crossbow ($50)
Crossbows are actually pretty decent and at times can one-shot folks at mid-range. You can even treat it as a shotgun and fire from the hit during close range. You'll just need to get used to how weapons like it work as you'll have to compensate for arrow drop-off, so this makes it the most difficult weapon to use in this guide. Crossbow bolts also apply medium bleeding, so if you do get a hit, expect the player to fall back and heal.
If you do stick with it, you'll love the satisfaction of taking someone down with this weapon. And if you are willing to spend extra for the special bolts, this weapon has explosive ammo. Just think about it. 
Caldwell Pax ($80)
For this pair, I suggest the Caldwell Pax again for the same reason as the other pair above. It's a reliable pistol when you miss your crossbow shot and have no time to reload.
---