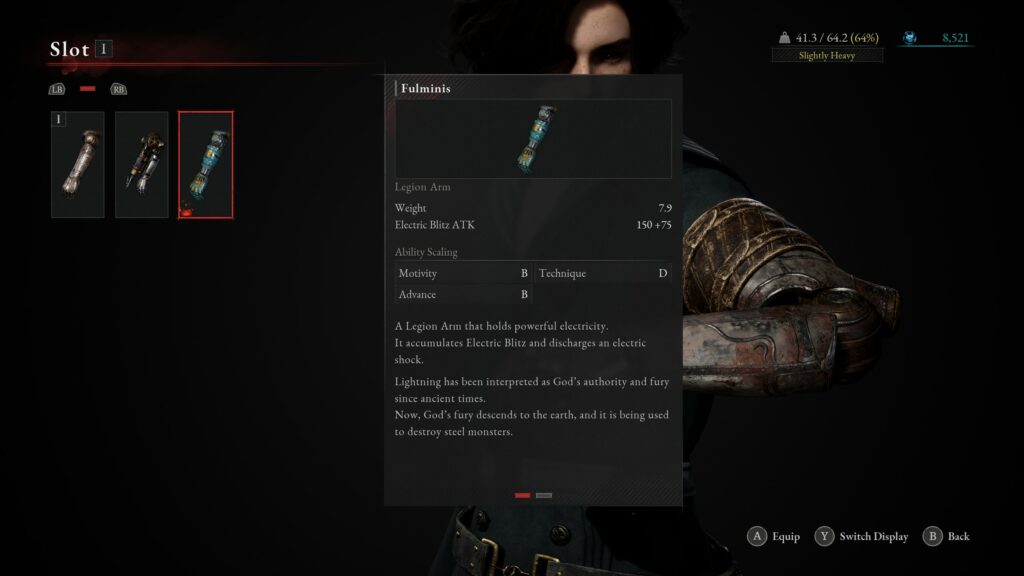 Lies of P is a Soulslike action RPG from NEOWIZ, and a clear love letter to FromSoftware's Lovecraftian horror masterpiece, Bloodborne. That's not to say it's some shameless ripoff, far from that actually, Lies of P makes good use of its twisted setting based on the works of Carlo Collodi, and introduces some fun mechanics to the formula. In my Lies of P review, I'll talk about what I think works, and where the game stumbles a bit.
Combat Design and Perfect Guard
Lies of P plays similarly to Bloodborne, where you have a weapon equipped in the right hand, and some utility in your left, which in this case, is the Legion Arm. You have your standard light and heavy attacks, and there is small potential for combos and such. If you've played previous Soulslikes, you'll feel right at home, and understanding how these mechanics work doesn't take much time.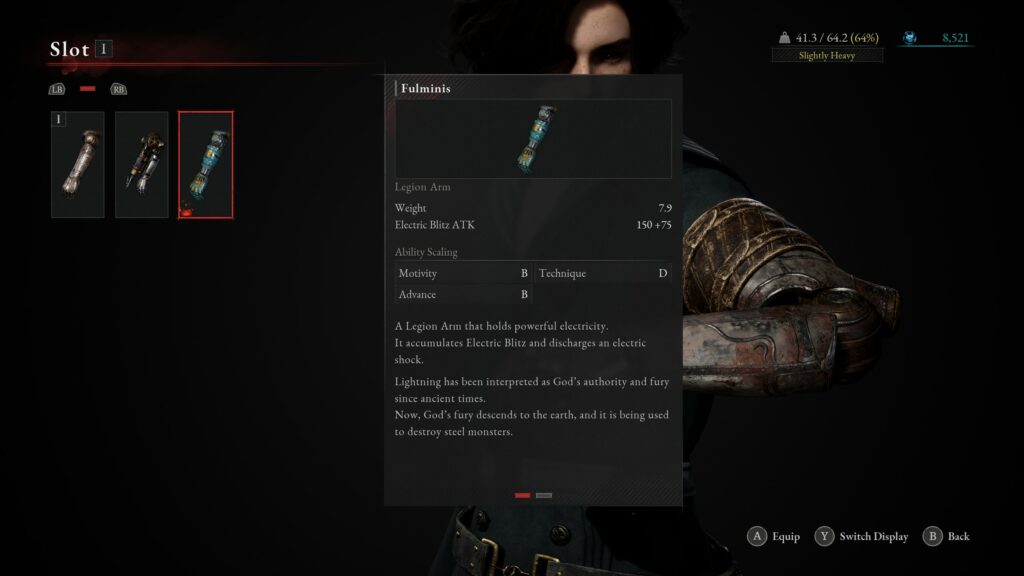 What's different from Bloodborne is how the rally mechanic functions. Instead of having the opportunity to regain health upon taking damage, you'll instead be able to regain health that was lost while you blocked. This means that instead of dodging, you're actually encouraged to block a bit more. I think this defensive style of combat works well for the most part, but there is an additional mechanic that becomes more important as you progress.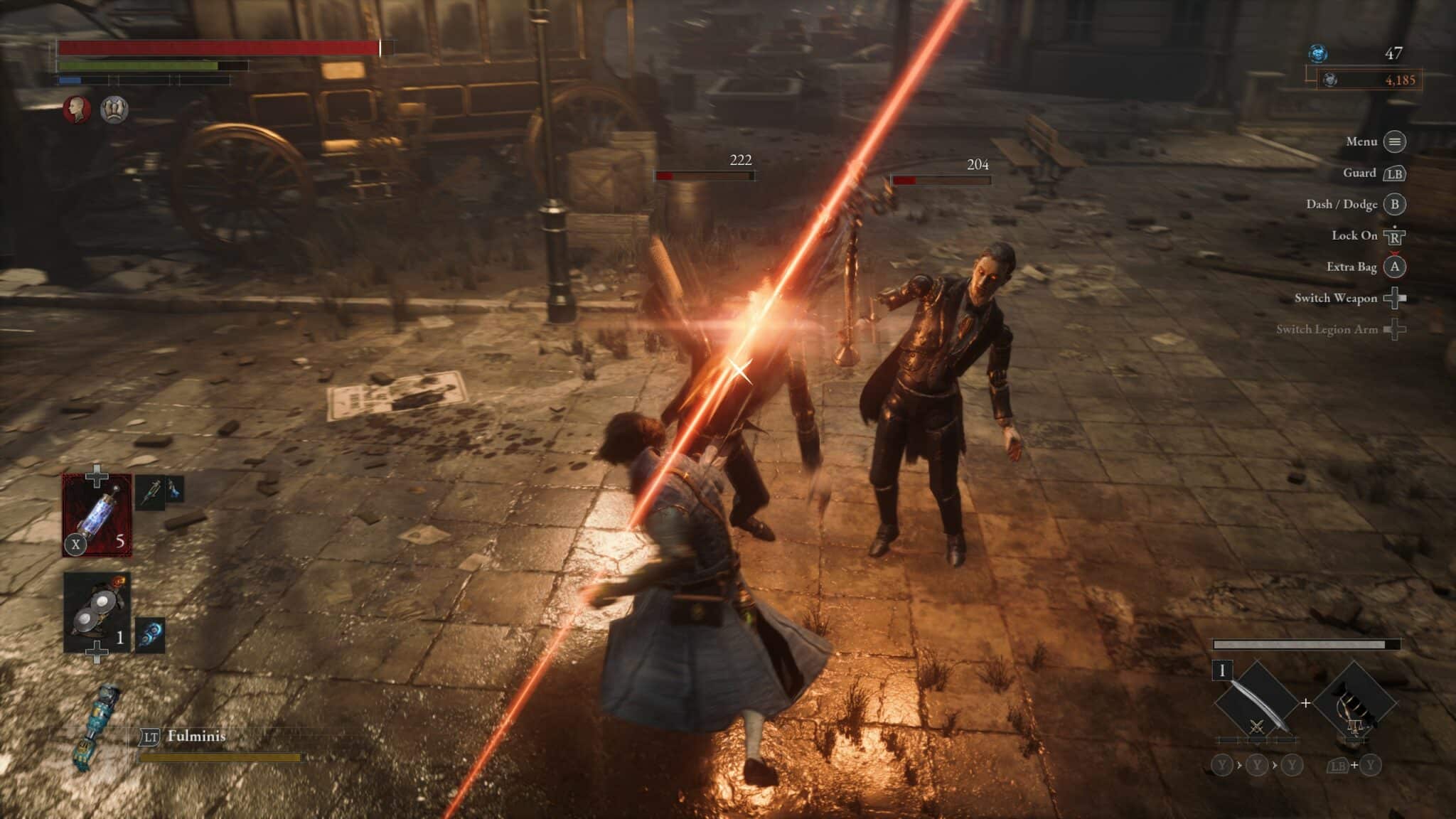 Perfect Guard, or parrying becomes an early priority because of its stagger potential. This is where things feel a bit awkward to me because it seems Lies of P is borrowing from both Bloodborne and Sekiro, but not really committing to either fully. Parrying is very important, but the parrying window itself is very small unlike Sekiro, meaning you'll receive damage for every mistake since you're not really blocking anymore, but are taking a riskier approach.
A lot of this could be addressed with some tuning to the parry window, and widening it a smidge. While this awkwardness is prevalent in boss battles, and fighting elites, I found the combat on its own quite enjoyable. When you do get the hang of parrying, especially after studying boss patterns, it's pretty gratifying to pull off, and essentially delete health bars.
Weapons, and Assembly Mechanic
Lies of P features tons of weapons to try out and experiment with. This is possible because of its excellent assembly mechanic, where you can mix and match the blade, and handle to create something you're comfortable with. In my experience, weapons with faster swings are preferable to slower hard-hitting ones.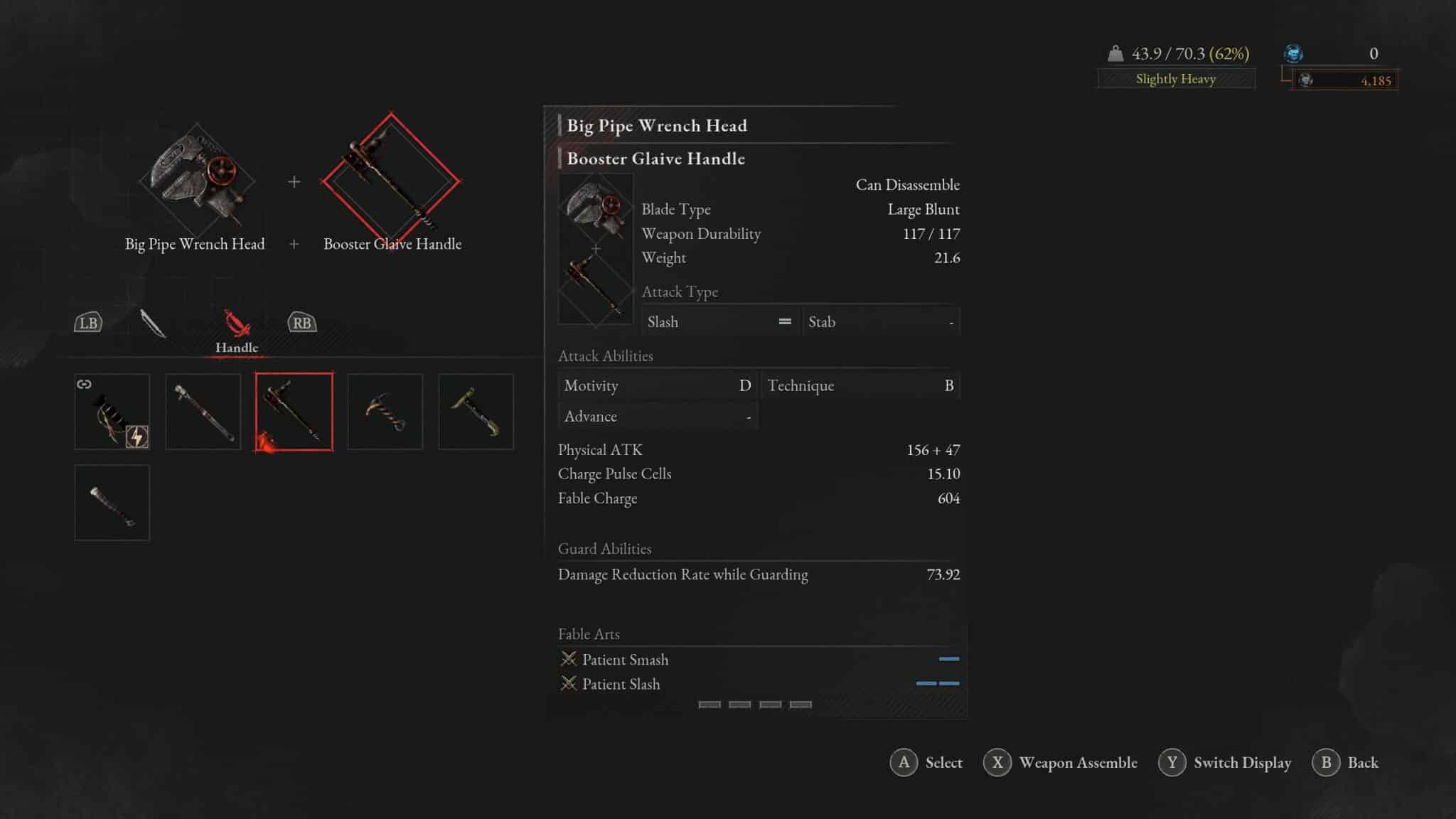 To address this, you can use a handle that has a faster moveset, and equip a chunky blade to compensate for that. It doesn't always work, and you'll want to test out things, but there are tons of combinations you can explore because of this unique mechanic.
I do think in general, you want a weapon that's faster, especially while dealing with bosses, which makes strength-focused weapons feel less viable, especially with the lack of poise. It's a shame because the game does feature some really cool heavier weapons that do tons of damage but are practically useless against most bosses that have extensive combos.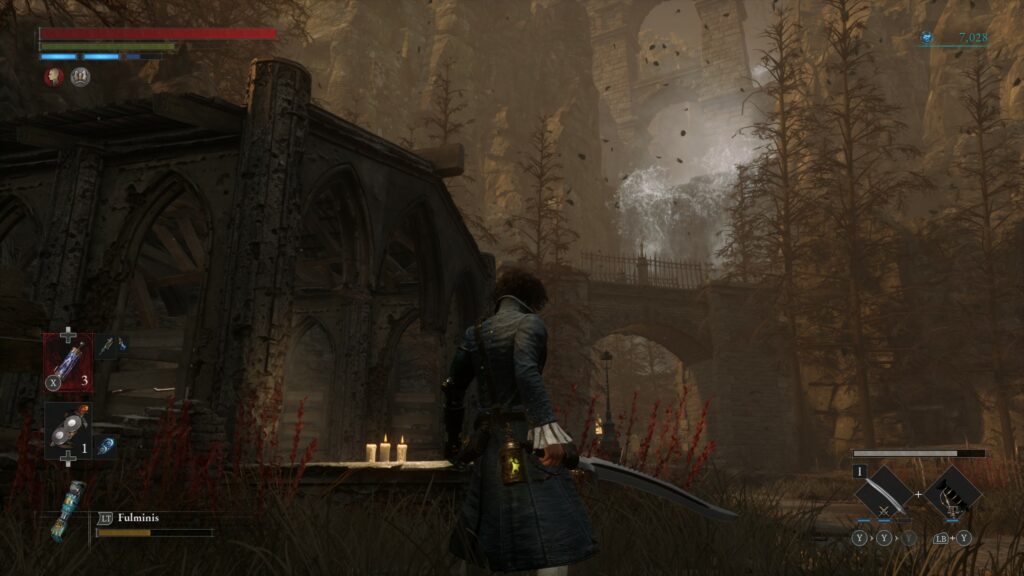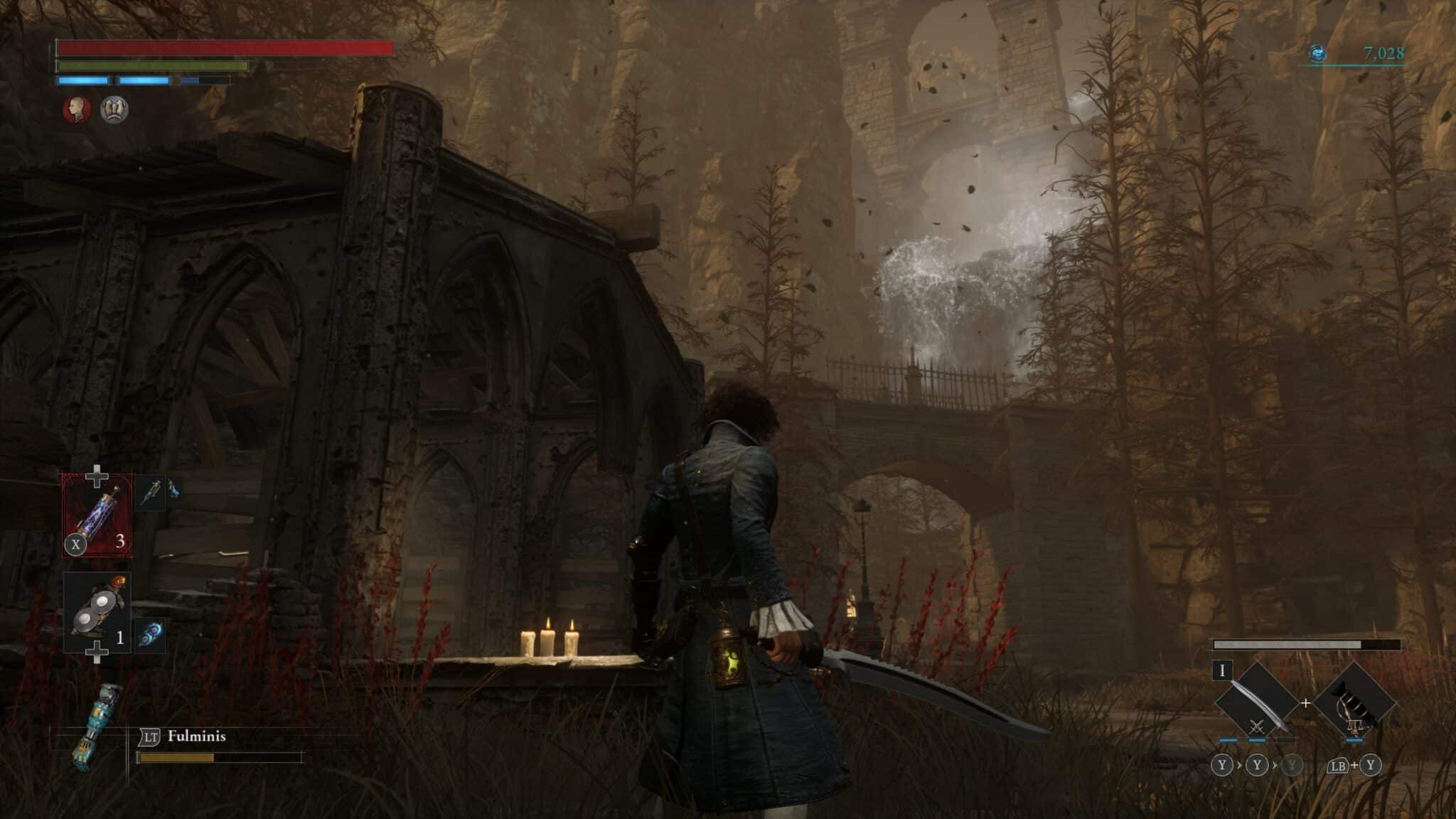 Overall, the weapon variety is extensive ranging from sabers, spears, swords, electric coils, hammers, and more. This variety coupled with the assembly system encourages experimentation for unique builds, and often ridiculous combinations. I like how most weapons look too, and some of the more "out there" ones feel impractical yet believable if that makes any sense.
Bosses and Exploration
The bosses in Lies of P are aggressive, and often massive in scale. They can be pretty hard at times and require you to adjust your strategy accordingly. In typical souls fashion, you have to learn their attack patterns that often extend to multiple phases. Fights that are typically one-on-one are enjoyable, but Lies of P does have a few gank fights, which are honestly not that fun.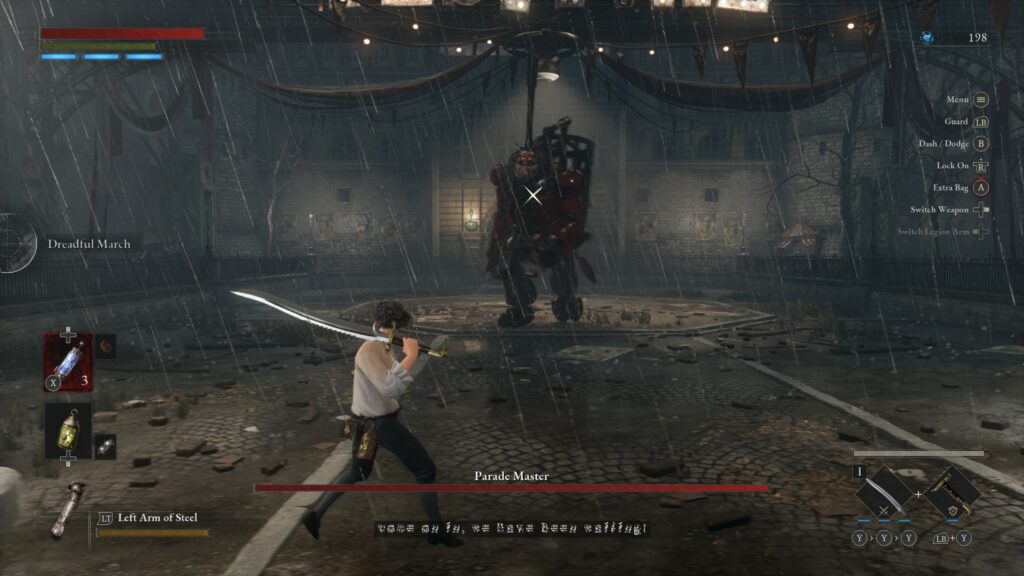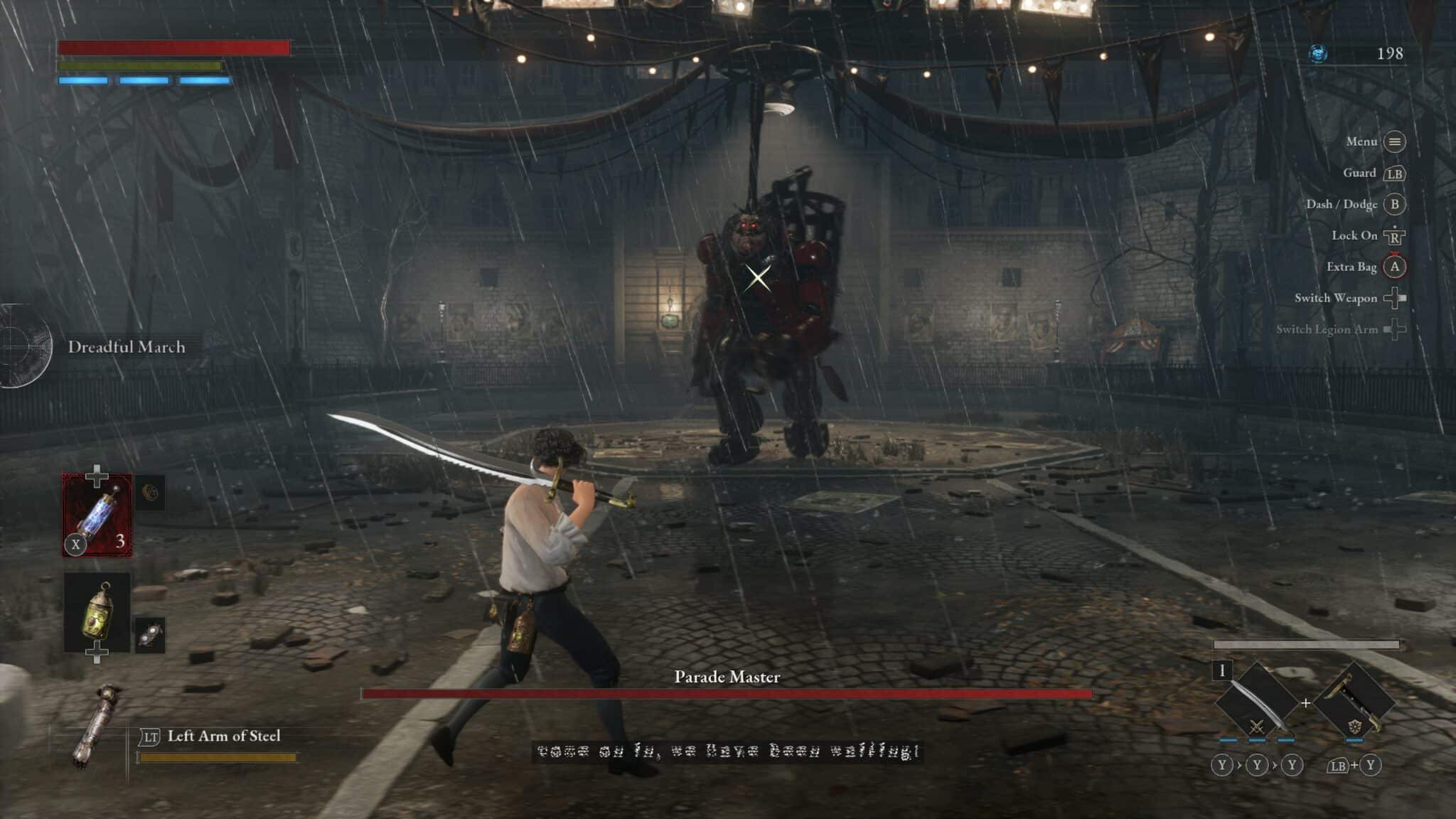 Throwables are actually quite effective against bosses, especially after you've learned their weaknesses. However, parrying is still the most important tool at your disposal and wears down bosses like nothing else.
The first few bosses are manageable without it, but you're going to hit a wall if you can't learn to properly time your parries. Some of the boss fights are really special, and from a visual point of view, I think they nailed the look of each.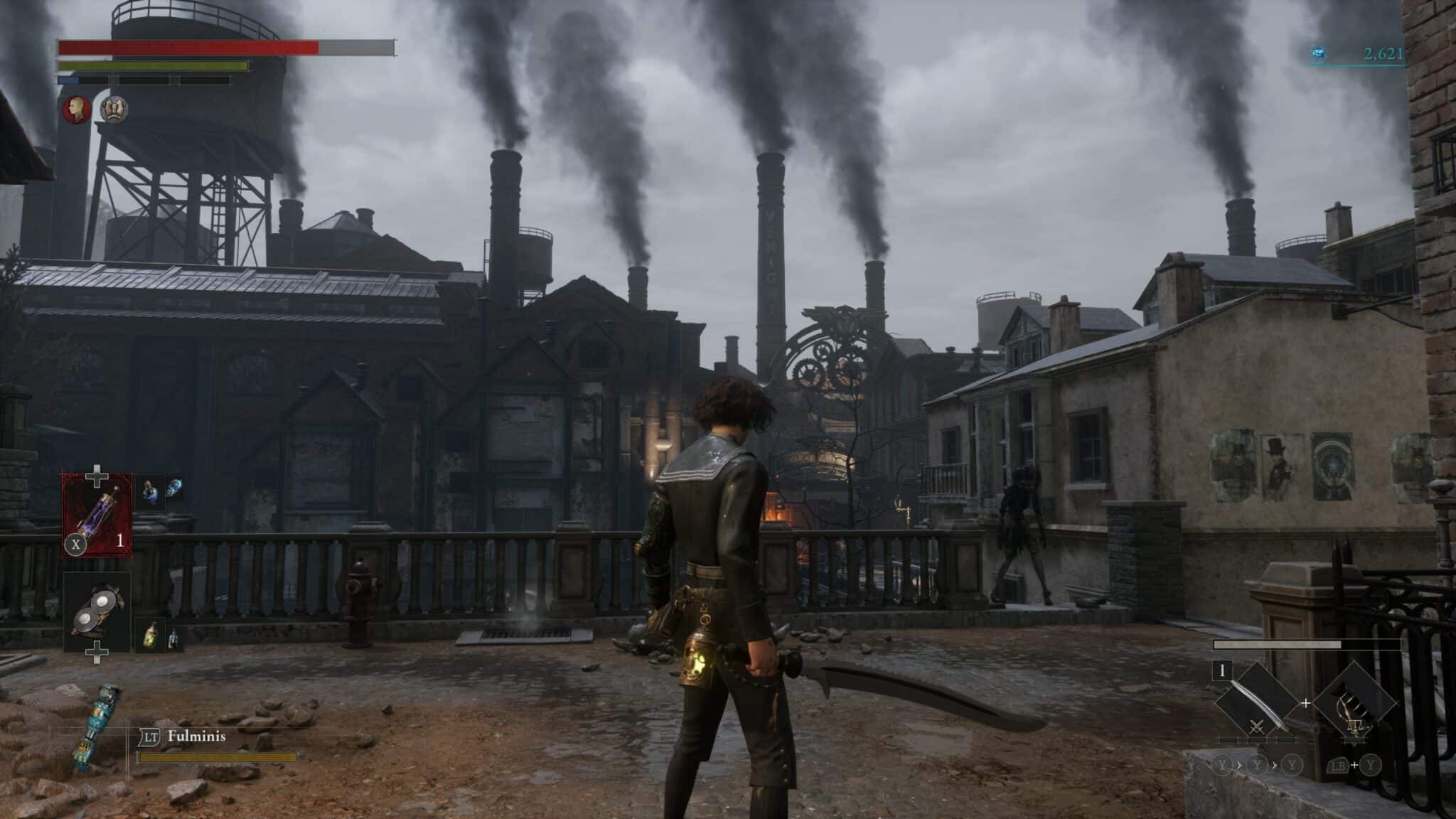 Exploration in Lies of P is mostly linear, and you'll explore big levels that usually have a singular exit. This means that you can explore every nook and cranny of an area before moving on, and I found most of the exploration quite rewarding. You can fast-travel between checkpoints, and I never really felt lost even in the more labyrinthian levels with added vertical exploration.
Presentation and PC Performance
Lies of P makes some excellent use of Unreal Engine 4 and honestly looks fantastic. It's not just that the technical fidelity is high, but the art direction is stellar. Levels feel unique but seamlessly blend into each other as you explore a fairly linear world. The enemies have an absurd amount of detail, and I was impressed by the animation quality of even normal grunts.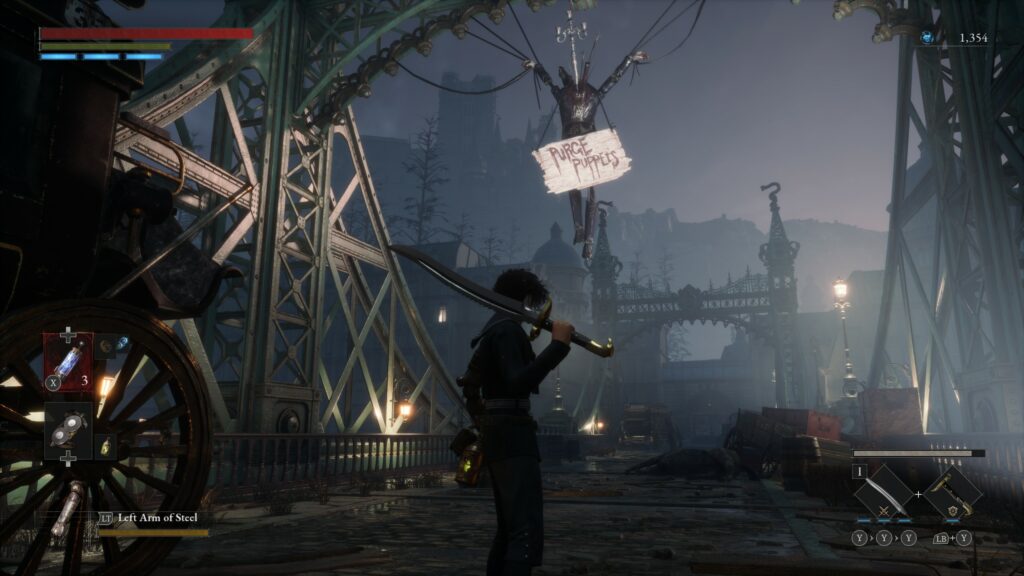 The very first enemy you encounter leaves a strong impression as a train warden puppet mechanically walks towards you, each part of its metal body twitching, turning, and winding with lit eyes, and a stop sign covered with blood fashioned as a weapon. Levels feel lived in, and you can often trace back to where some violent attack erupted on the inhabitants of the city.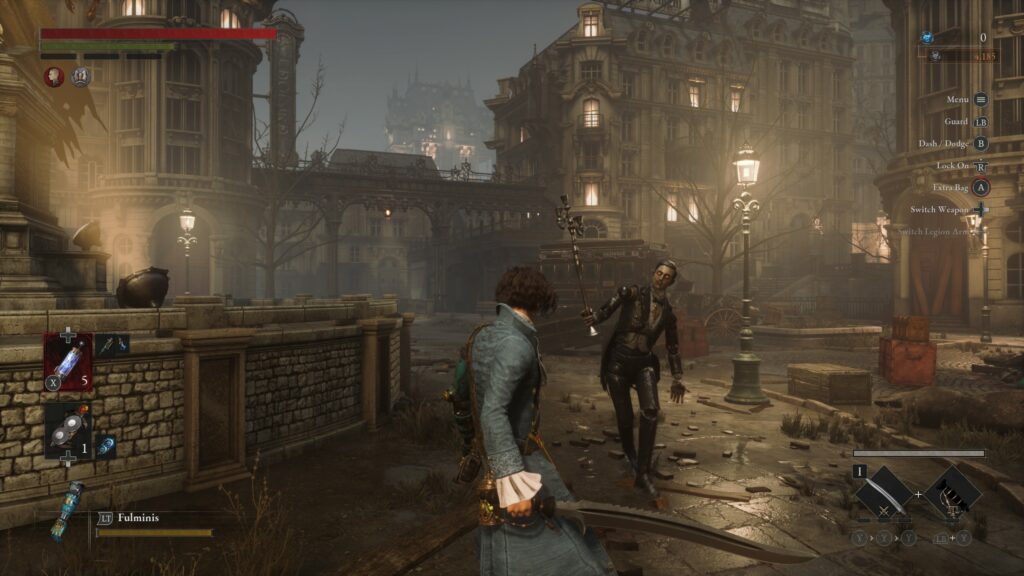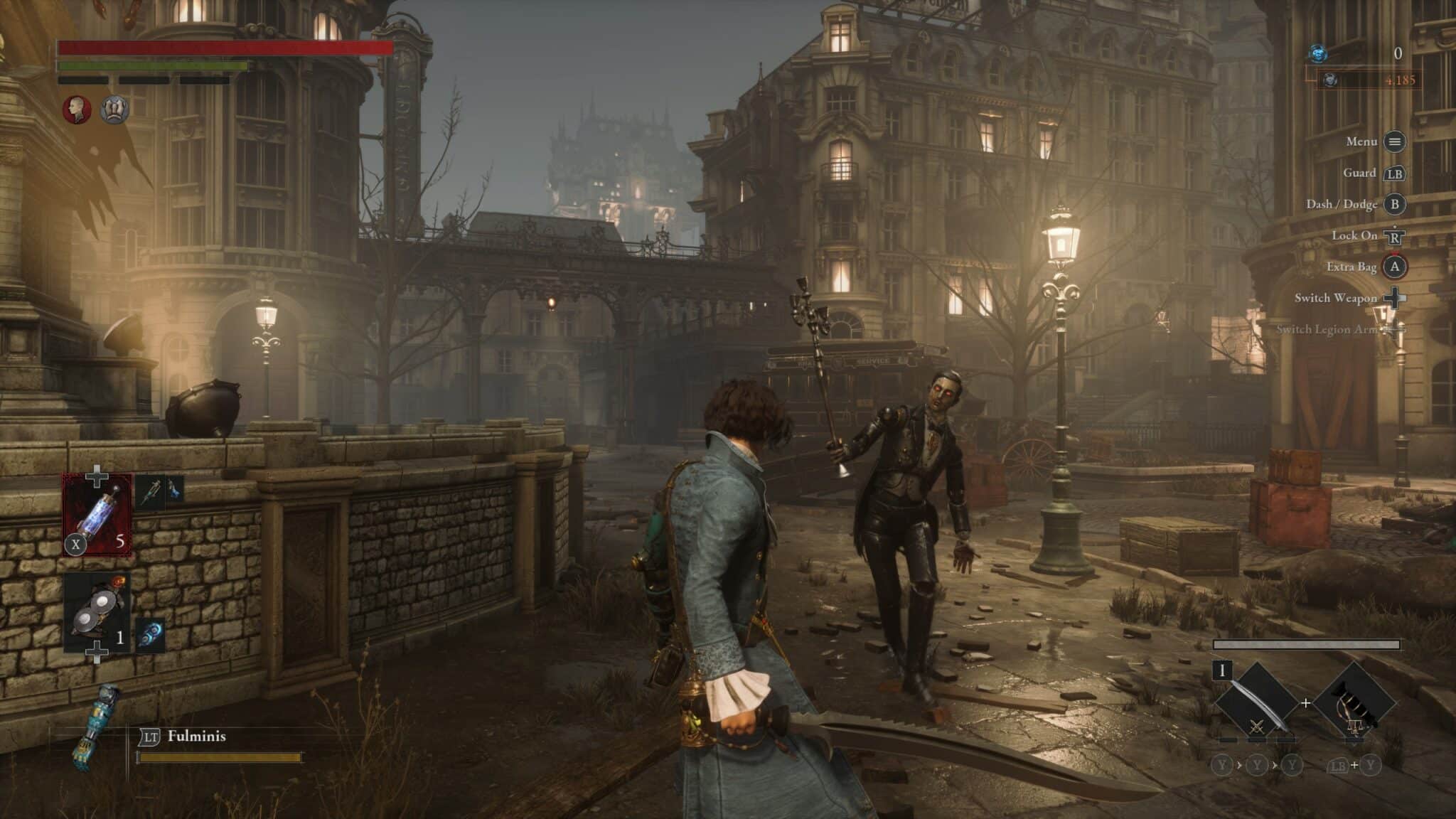 The excellent presentation extends to the sound design as well. Each action you perform has a neat little mechanical sound, and attacks land with a lot of oomph. The voice acting is decent for the most part too, especially ones you'll routinely interact with.
After a string of poorly performing PC releases, specially developed on Unreal Engine, it's refreshing to play something that looks and runs great right out of the box. Even without using upscalers like DLSS and FSR (both of which are available in-game), you can expect Lies of P to run well across a variety of systems without any major stuttering problems.
Story and Characters
While the setup is pretty interesting and is similar to different science fiction "AI gone rogue" stories, I think the introduction of the "Puppets can't lie" aspect is a bit interesting. It's something that comes into play as you progress and determines some of the later events, but it largely feels inconsequential.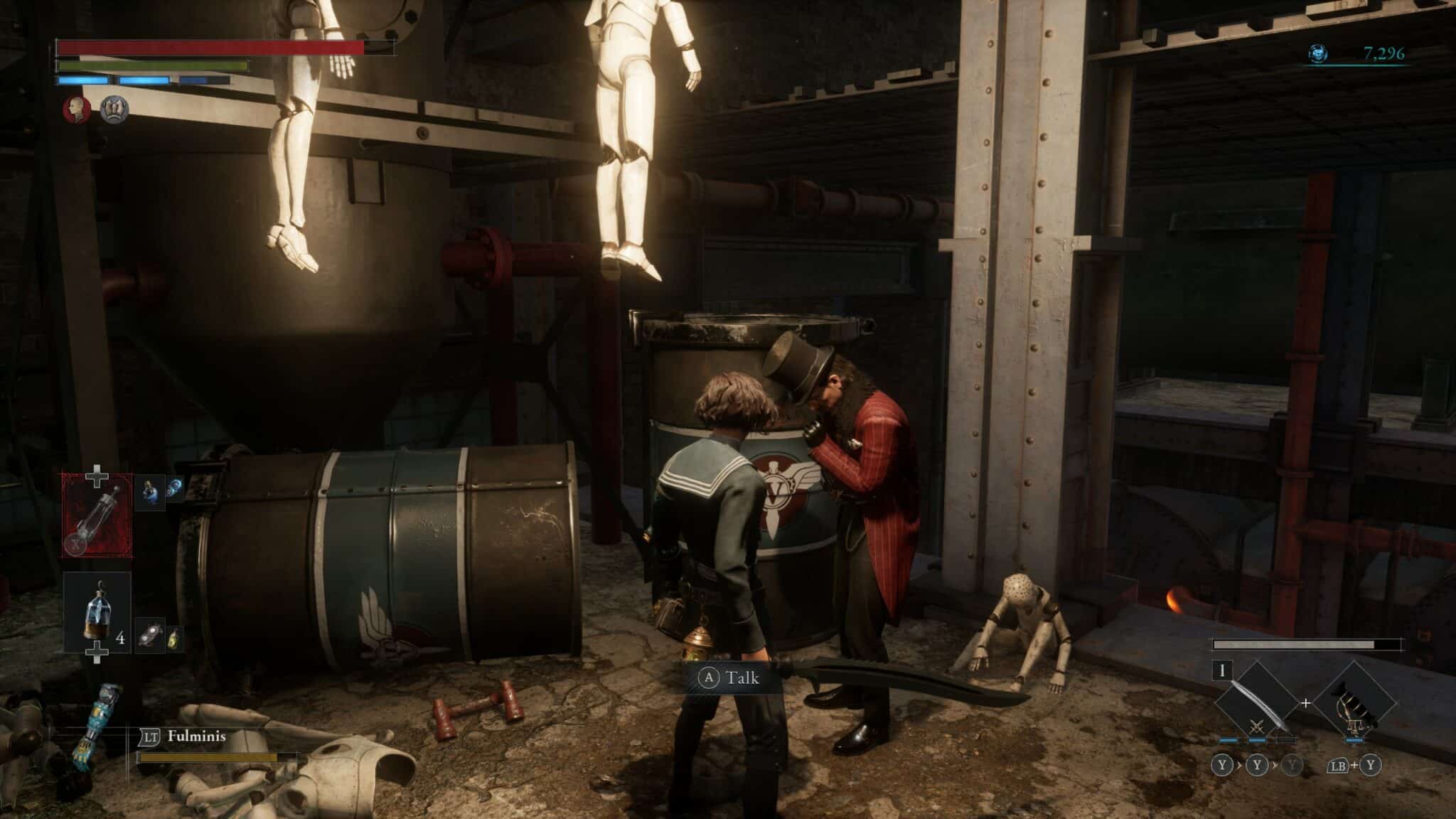 I think the setting, and worldbuilding are more interesting than the immediate story, and that's often the case with other soulslikes as well. There are plenty of characters you'll meet, fight, and even help out as you explore the different regions of Krat, and I found myself satisfied with how most of their quests concluded.
One useful addition to the fast-travel is that you'll be reminded of where you need to go to progress certain side quests. It makes things easier, and the way it's implemented with a small icon is a good compromise.
Verdict
Overall, Lies of P is a great time, and if you're looking for the next big Soulslike to spend hours in, you really can't go wrong with this one. Its weapon assembly system allows for endless customization, and the presentation is superb throughout with some very interesting worldbuilding. It still needs some refinement in its combat mechanics and encounters, but I had a lot of fun parrying, dodging, and slicing through mechanical beasts that roam the city of Krat.
What did you think of our Lies of P Review? Share what you think about it in the comments below.
This review is based on the PC version of Lies of P. The key was provided by The ICO Team and NEOWIZ.
The post Lies of P Review – Tell Me Lies, Tell Me Sweet Little Lies appeared first on WhatIfGaming.