It's been less than a year since Game Freak and The Pokémon Company dropped Pokémon Legends: Arceus, and I never thought that I'd be reviewing the next mainline entry so soon. In fact, when the Pokémon Direct was announced earlier this year, nearly everyone in the fan community had anticipated DLC for Arceus. I was not the only one shocked to discover that instead, we'd be getting Generation IX within the span of months. As someone who has been very critical of both Generation VIII and Arceus, I was left extremely skeptical, but the changes to the formula as seen in Arceus, as well as the promise of simultaneous multiplayer open-world play, had me inwardly hopeful. 
It was tough to be optimistic early on, as Scarlet/Violet's early footage was not promising. While the Pokémon themselves and the interiors looked good, textures and backgrounds were rough, and shadows were either low-res or non-existent. With less than a year between these major releases, I expected a mixed bag with regards to presentation/performance, maybe a bit of an improvement on Arceus. How naive I was.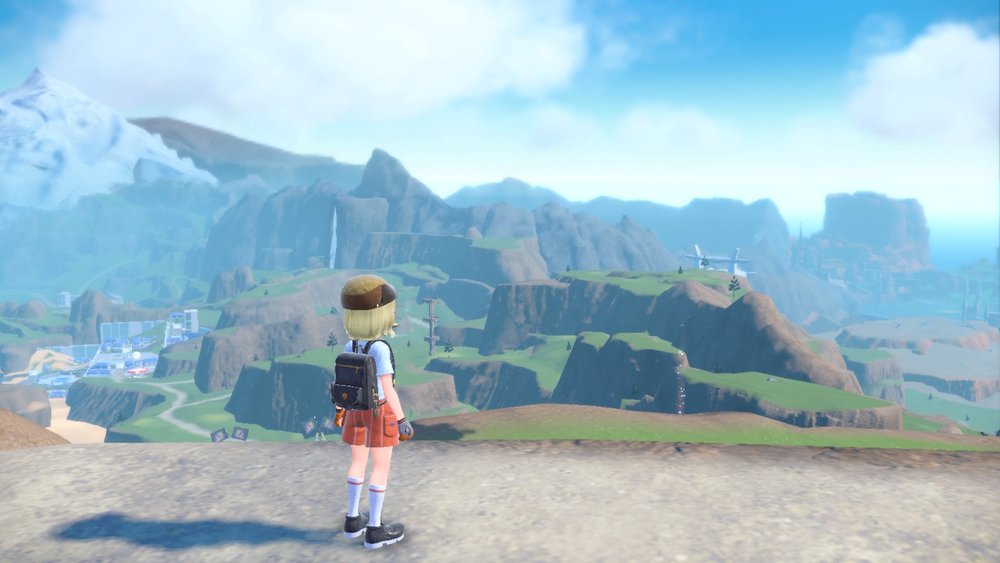 This Should Never Have Passed QA
I never would have guessed that Scarlet/Violet, building off of previous Switch releases Arceus and Sword/Shield, would be two steps backwards in terms of not only presentation, but performance, with visual glitches galore, jarring pop-in at nearly every turn, anti-aliasing non-existent, the camera often clipping through geometry or spinning incoherently, background NPCs and Pokémon moving at reduced frame rates, and many annoying gameplay bugs, with the most infamous being a memory leak that crashed my game three times.
Basically, weeks from release, as long as you have the game open (even if you put the system to sleep and wake it), it is only a matter of time before it crashes on you. Knowing about the issue, I've set mental timers to restart the game every few hours and to manually save after every major event rather than rely on an autosave that might conceivably end up corrupting my file.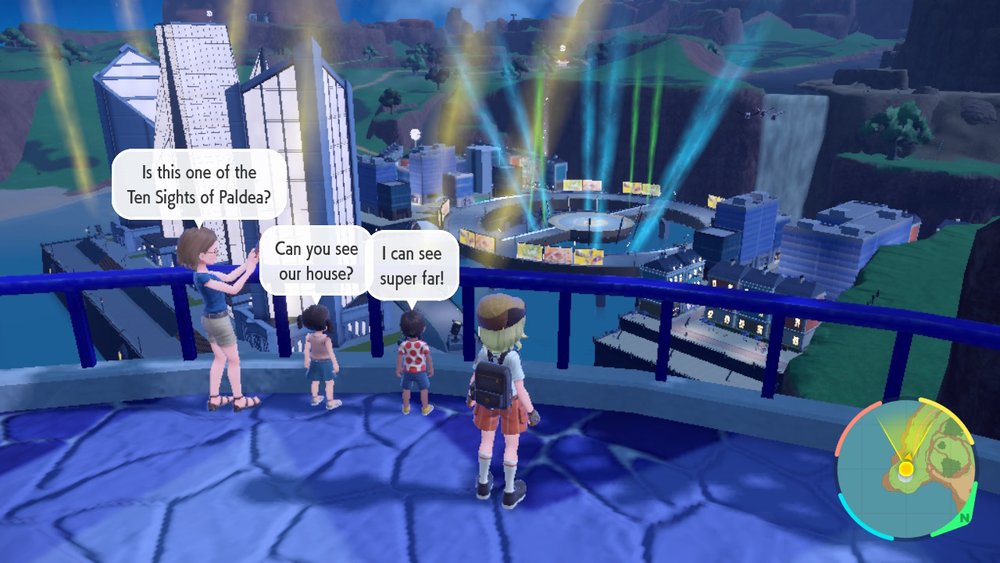 As someone who grew up on slow Nintendo 64 games and underpowered PCs, I am not generally sensitive to inconsistent frame rates in video games, but Scarlet/Violet's frame rate, which constantly fluctuates in the low 20s and below, got me physically nauseous multiple times. It got to the point where I had to close my eyes whenever I moved the camera, as I was getting headaches. I didn't think putting down my controller to stare at faraway mountains every thirty minutes or so would be part of the challenge, especially on a console that can run Monster Hunter Rise, Xenoblade Chronicles 3, and even decent ports of Crysis 3 Remastered, The Witcher 3 and Nier: Automata.
It's a shame to have to point all this out, as Pokémon Scarlet and Violet are obviously very ambitious titles that seek no less than to transport the player entirely into the seemingly seamless open-world region of the Spain-inspired Paldea. The problem lies in the rushed execution.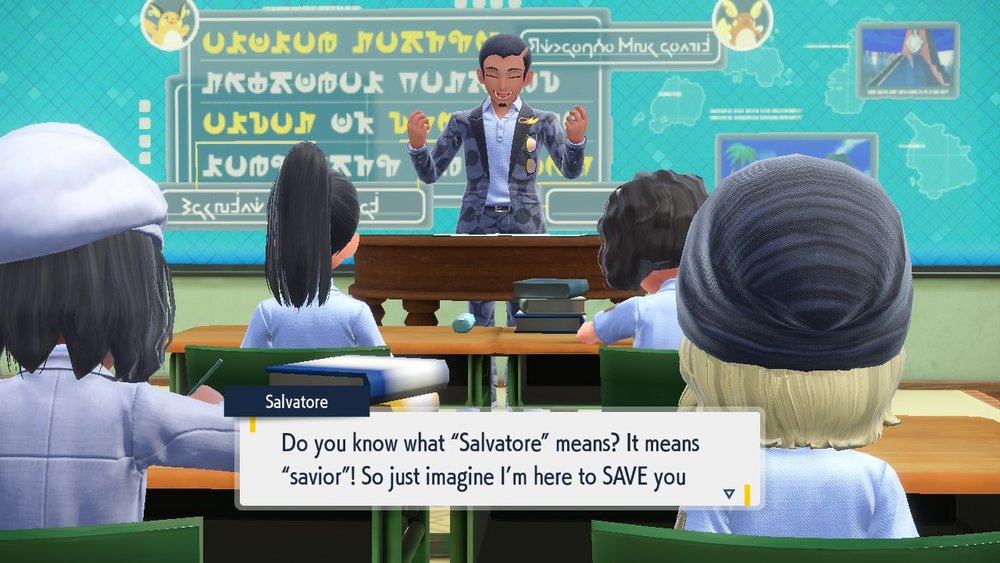 Three Parallel Questlines To Pursue
Scarlet/Violet begins with your custom character traveling to a live-in Pokémon Academy, where you'll be taking optional classes, living in a dorm, and in no time at all, setting out on an independent study to explore the world and find your "treasure" as you work towards completing three parallel sets of challenges. 
Along the way to school, you'll meet your lovable rival Nemona, a battle-obsessed Champion-level trainer seeking a proper challenge. She's a bright and energetic personality, and she'll challenge you between your eight Gym Tests and Gym Leader battles as you head to the Elite Four.
You'll also encounter Arven, who's seeking the magical Herba Mystica plants for their mysterious healing properties. His subplot, involving an ailing Pokémon and an absent Pokémon Professor mom, is the story that really held my attention. Around the same time, you'll also encounter your awesome all-terrain-vehicle Pokémon (Koraidon for Scarlet, Miraidon for Violet), whose abilities become upgraded until you can scale every cliff. Joining forces with Arven to seek out the five mysterious Titan Pokémon, who guard hordes of Herba Mystica, was a fun, if brief, set of boss challenges.
As for your third and final quest line, you'll be tasked by a mysterious entity with taking down Team Star, a group of delinquents from the Academy who have been skipping school, causing trouble, and are in danger of being expelled. The Academy Director, badly disguised as a student named Clive, joins you on these five raids, as you attempt to unravel the mystery of who is behind Team Star, and why they've been missing for almost two years. To this end, you'll be raiding their bases with AI battles until you take on the boss. This started slow, but improved near the end. 
These three sets of main quests can be tackled in any order, but the levels of your various foes are such that in true Elden Ring fashion, you're meant to be going to each of Paldea's regions, exploring, then tackling its quests in any order — Titan Pokémon for the Herba Mystica, the Gym Leader, and the Team Star base, before moving on. The exploration would be a lot more fun if the game hadn't already marked nearly every important location in advance. Navigation is a breeze as you can warp to virtually any Pokémon Center you've been to.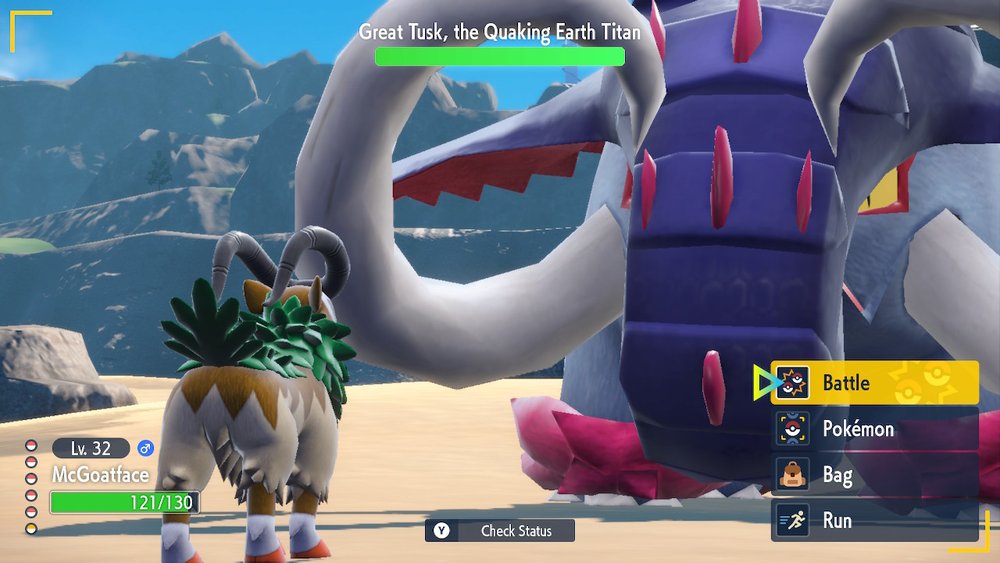 Shine On, You Crazy Diamond
Battles are often a breeze, too, as this time around, the game not only informs you what Pokémon your foe will be using next, but asks if you want to switch beforehand. If you have a balanced team, this allows you to counter every single Pokémon they throw at you. The starters are all very powerful, too. I picked the fire starter Fuecoco, who carried me through most of the challenges, even though I didn't grind at all.
Every Pokémon generation seems to have a gimmick, and this time around it's Tera Forms, where your Pokémon become enhanced by some magical crystal doohickey called a Tera Orb, which grants your dude an enhanced power with one specific Type (not always one of their own Types, so for instance a Water/Flying Pokémon may become Psychic). Once you transform your Pokémon, you can't reuse your Tera Orb until you rest or visit a Pokémon Center. The mechanic really shines most in multiplayer, where you and up to three other trainers can team up against these powered-up monsters in the wild – their shining light is visible from afar. Speaking of the multiplayer, yes, in addition to trading and battling, this time around, you can join your friends in the open world, one of the game's big selling points.
Artificially Gated
Aside from the novel multiplayer, Scarlet/Violet's defining characteristic is that unlike previous mainline entries, you aren't locked into a set path, and have multiple goals other than simply traveling from town to town and challenging gym leaders. I really enjoyed this formula up until around level 50, when I powered through with light exploring until I discovered that the game wanted me to grind several levels just to tackle the next challenge. This was frustrating, because I was being very careful not to over-level and blunt any further challenges, and I had my team set for the endgame. I just wanted to move forward and challenge the Elite Four without mopping the floor with them like I always do. I ended up skipping over many trainer and wild Pokémon fights in order to challenge myself, and thus missing out on TMs.
There are other head-scratching decisions. TMs can be found in the wild, gifted by powerful foes, granted for defeating all trainers in a region, or synthesized from items dropped by wild Pokémon you defeat, but the full recipes for crafting certain TMs are unknown until you possess the required items to make them. I had to look that information up online, which I'm sure is the point as it puts Pokémon in your search engines and trains the algorithms. The game also does not provide any option whatsoever for skipping or speeding up the sluggish battle animations, which is unforgivable as late-night battling put me to sleep multiple times. Perhaps worst of all, you're forced to just accessorizing one of four bland school uniforms. They could have at least just imported threads from Sword/Shield. 
I'm sorry to say this, but all of this was enough to make me want to quit. And that's never something I've said about a mainline Pokémon game. In Scarlet/Violet's defense, though, I am glad that I persevered and finish it. And while there were some genuinely cringey rap battles, braindead and silly Gym Tests, as well as some terribly balanced fights, I enjoyed the quality music, main characters worth caring about, good Pokémon models and animations, a strong final chapter, and what seems like a decent endgame (I stopped playing at 36 hours, 15 minutes after the credits rolled). Gen IX also makes use of the open-world concept very well on a basic design level, and if refined, this style of gameplay could be a real winner in future Pokémon games.
Will the Downward Spiral Continue?
Considering how rough Generation IX is, and yet how record-breaking its sales are, one fears that The Pokémon Company will have no reason to attempt to improve the QA on these titles. As Pokémon is the center of a media empire including the TV shows, card games, movies, and untold billions in merchandise, every game delay would cost Nintendo dearly. Pokémon Scarlet and Violet moved over 4 million units in Japan within the first weeks, and even the poorly-made Diamond and Pearl remakes have sold over 10 million units. Kids and adults alike are desperate for these games. We have been trained like Pavlovian dogs on these Skinner Boxes.
So the question needs to be asked: will anything change? Will they realize that no amount of employees hired can make up for a lack of time? It is more likely to me that Nintendo and The Pokémon Company do not even consider fan backlash to be more than a drop in the bucket. This speaks to the low standards of Pokémon fanatics as much as it does Nintendo's own hubris in rushing Pokémon games out of the gate like there's no tomorrow. I am sure the developers don't appreciate the crunch, either. Maybe MonolithSoft can show them a thing or two about open world optimization, but more importantly, Nintendo could hit the brakes a little.
But who am I to wax poetic about Pokémon? The last game in the series that even attempted to look cutting-edge was Pokémon XD: Gale of Darkness for the GameCube. And while I had to sell my copy of that game on eBay to make it through 2020, Nintendo is asking $59.99 (P2,695 at DataBlitz, maybe?) for Scarlet/Violet. And at the sales volume they get, there's no incentive to lower their prices or slow down.
If this trend continues, I will not be playing the next mainline Pokémon game. This rough quality is unacceptable. I hope that Game Freak and Nintendo will work quickly to patch the performance after all this ruckus, but even if it somehow ends up running smoothly enough to not be headache-inducing, I doubt I will ever revisit this game. I'd sooner play Omega Ruby/Alpha Sapphire, or even HeartGold/SoulSilver and remember the days where the developers were given appropriate time and tools to realize their vision.
---
Score: 5/10 (Wait for Issues to Be Addressed, And For A Price Drop)
---

Highlights
Pros
Open-world concept is well-realized, with distinct locales and vertical maps

The Pokémon in general are well-animated, with models being of higher textural quality than in previous entries

Excellent music, good characters, and a potential base to build upon in the future
Cons
Absolutely dreadful performance with visual shortcuts and glitches galore resulting in an experience that rarely achieves 30fps and even dips below 20

Unfinished textures, lighting effects, and levels speak to a very rushed development and poor optimization, including a memory leak

A lack of unique ideas and slow gameplay with limited options for speed and customization

Far too easy unless you go out of your way to avoid over-leveling
What I Played
Beat the game – Elite Four, Champion. Final Chapter. Did not tackle Gym Rematches.

Team I Beat the Elite Four With: Skeledirge, Magnezone, Garchomp, Gogoat, Gyarados, Gothitelle

Caught 128/400 Pokémon, Seen 275/400

Played for 36 hours, 15 minutes
---