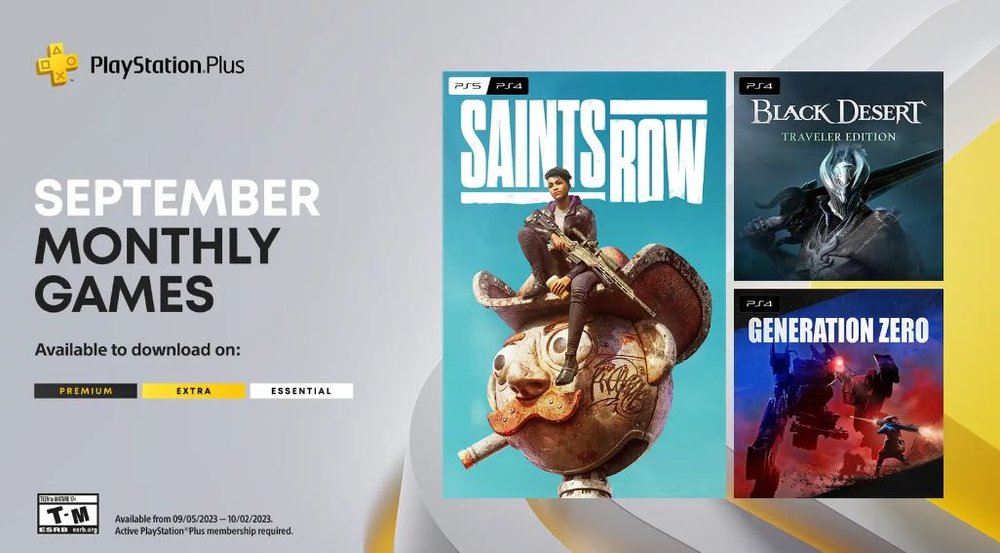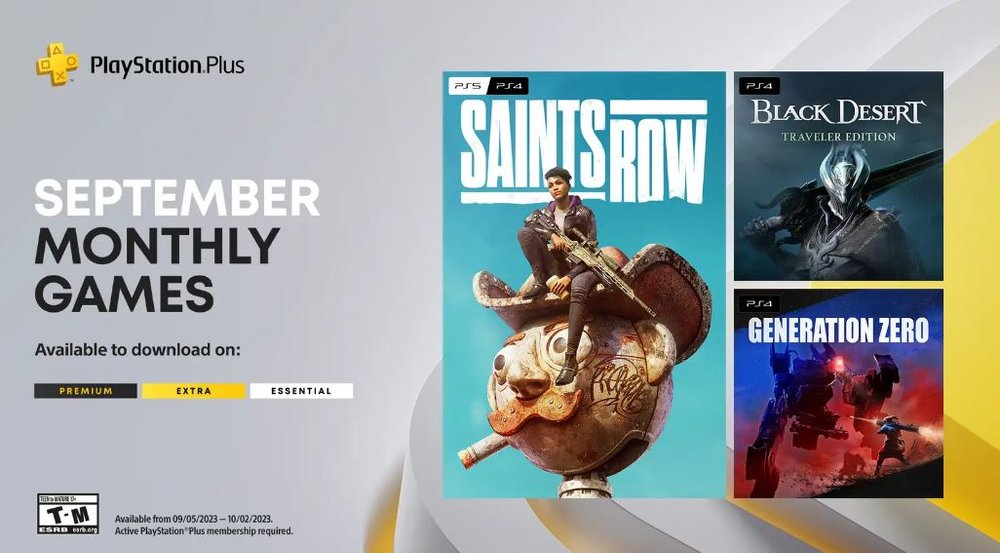 Sony Interactive Entertainment revealed the Monthly Games lineup for PlayStation Plus members for September 2023 as the Saints Row reboot, Black Desert Online Traveler Edition and Generation Zero will be available for download starting September 5 until October 2.
Here's a quick description of each game provided by PlayStation.
Saints Row (PS4, PS5)
Experience the biggest and best Saints Row playground ever created.  The unique sprawling world of Santo Ileso is the backdrop for a wild, larger than life sandbox of thrilling side hustles, criminal ventures and blockbuster missions, as you shoot, drive and wingsuit your way to the top. Take over the city block by block, wage war against enemy factions and tighten your grip on the streets. Play online with a friend at any time, via fully untethered drop-in / drop out co-op, skipping the need to take either of you out of the outlandish action. 
Black Desert – Traveler Edition | PS4 
Find your calling in this open-world fantasy MMORPG which boasts fast-paced PvE combat, large-scale PvP siege wars, multiple character classes and combat types to specialize in. You can also choose to dedicate yourself to a variety of pursuits, such as trade, fishing, horse training, alchemy, cooking, and gathering. The Traveler Edition is a bundle of the base game and multiple add-ons. 
Generation Zero
This first-person open world adventure is set in a familiar but hostile open world of 1980s Sweden. Battle and survive deadly machine enemies alone or with three friends in seamless online co-op as you discover the truth behind what's happened to the region. You must choose your battles wisely as you engage in adrenaline-pumping guerilla combat against these mechanical forces. Scavenge parts from your fallen enemies and use them to craft equipment, weapons and ammunition. Build and fortify your own bases across the island and start taking back your home. 
With these games being offered next week, PlayStation Plus subscribers have until September 4 to add the August lineup to their account.
PlayStation Plus price increase goes live on September 6
Together with the reveal of September's Monthly Games offering, Sony also announced that they will be increasing the prices of all 12-month subscription plans.
PlayStation Plus Essential 12-Month Subscription
79.99 USD / 71,99 Euro / 59.99 GBP / 6,800 Yen
PlayStation Plus Extra 12-Month Subscription
134.99 USD / 125,99 Euro / 99.99 GBP / 11,700 Yen
PlayStation Plus Premium/Deluxe 12-Month Subscription
159.99 USD / 151,99 Euro / 119.99 GBP / 13,900 Yen
If you like the service PS Plus offers, there's still time to get it before the price increases. It's a pretty significant increase for the 12-month offer as we see a $20 increase on each plan.
---