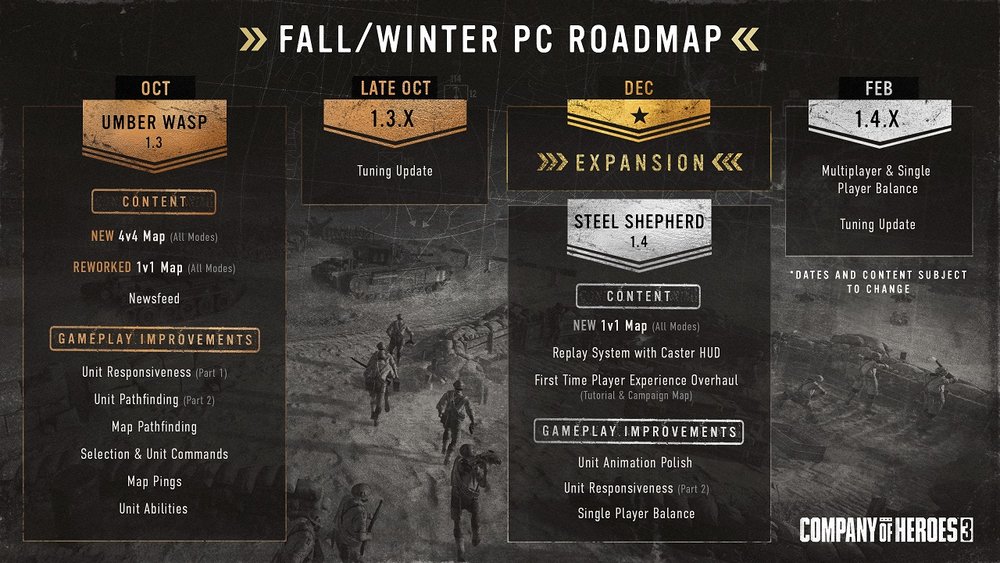 Relic Entertainment revealed what to expect from their RTS game Company of Heroes 3 for the rest of 2023 on the PC and console versions of the game.
For PC players
In October, Relic will be launching the 1.3 update on PC titled Umbal Wasp, which will include new content such as a new 4v4 map, a rework to the 1v1 map Pachino Stalemate, and a newsfeed. The update will also include gameplay improvements such as:
Unit responsiveness

Unit pathfinding

Map pathfin

Selection & unit commands

Map pings

Unit abilities
By late October, another patch will be launched to provide further tuning to the game.
November will be quiet, but for good reason as December is when Relic Entertainment plans to launch Company of Heroes 3's expansion together with the 1.4 update called Steel Shepherd, adding a new 1v1 map, a replay system with a caster HUD, and a first-time player experience overhaul, which is simply them improving the game's tutorials.
Further gameplay improvements are planned in this update as well, such as unit animation polish, further improvements to unit responsiveness, and single-player balancing.
For console players
As for those playing Company of Heroes 3 on console, Relic is still playing catch-up as they are still slowly converting previous major PC updates to the console version. The next one will be the 1.1.6 update known as Brass Leopard. This major update will go live this September and will add a new map, gameplay, and audio improvements.
---